Many skateboarders are captivated by the thrill of skateboarding. It feels good under your feet whether you are a kid, a teen, or an adult. There is something pretty thrilling about the idea of flying in the air and rolling in pools.
Especially when it comes to skateboards, most of us are in love and loyal to some of the best skateboard brands. Pro, level skateboarders team is also a reason in building the reputation of good skateboard brands.

In addition, if you are searching for the best skateboard company that also makes other skating-related accessories products like shoes, deck, wheels bearings, etc., that skateboarders can rely on. Let us help you find out the best skate brand for you. We've compiled a list of the 15 best brands for you. Before an in-depth discussion of the top skateboard brands reviews.
Check Out These Top 3 Winner Skate Brands of 2023
Top 3 Winners of 2023❤
---
Best Skateboard Brands
1. Plan B Skateboards
In 1991 a great skater Mike Ternasky with his friends Jackson Kontzer and Brain johnson made a plan to change skateboards. So they named their intended board a Plan B Skateboard.
After three years, unfortunately, Mike lost his life in a car accident. The project stalled for a long time after the founder's death. But after a few times, Danny Way and Colin McKay restarted the Plan B skateboards project in 2005.
Despite many challenges. This skate brand gains a reputation as one of the top-level brands within a short period.
Plan B offers almost all sizes of decks to its customers. Seven strong and thick layers of maple wood are used in its construction. 
There is a great deal of customization available with Plan B. It also delivers a full build skateboard for riding that includes Deck, truck, wheel, and in some packages, bearings are also added.
As we know skateboarders need a toolbox, wheels, and something hip to wear. Plan B delivers it all.
Under this brand name, they've recently started offering skateboard apparel – believe me, they are so sexy.
By the way, Plan B is the trusted and best skateboard brand in the market. The company has a high turnover, so we can assume its revenue is higher than many other popular skating companies.
Plan B Skateboard sponsors many other professional skateboards such as:
Best for

– you can customize it according to your skating style—high-quality construction with eye-catching design. Plan B is a good skateboard brand for young skaters.
---
 2. Element Skateboards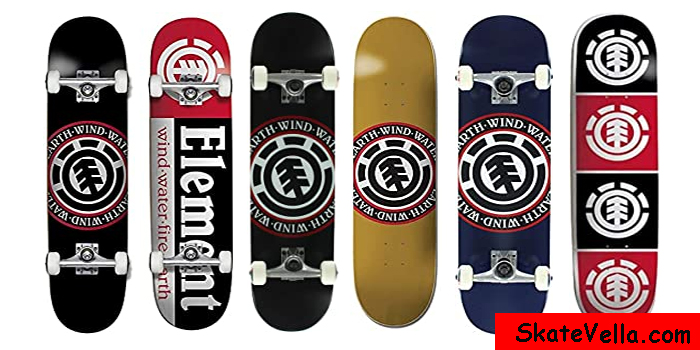 When we are listing the best skate brands, it's impossible to ignore one of the top brands of skateboards – Element Skateboards. There's no doubt that Element has had a fantastic reputation in the skateboarding industry since its founding 29 years ago. 
Johnny Schillereff well-known skateboarder worked hard in his mission. His main goal of this organization was to bring something that creat attention in the field of skateboarding. As Element Skateboards began, Johnny's vision was to make skateboarding more noticeable for us.
A Skateboarding company located in California offers quality skateboards. Element is leading the way on the international stage. It is known for its high-quality products. 
Element is known as one most long-lasting skateboard brands. That can easily survive from months to even years depending on your skating style, maintenance, and use.
The Brand also allows you to buy the complete set of penny boards, Longboard, and Skateboard including the deck, truck, wheel, and remaining all other Skateboard related items. 
Both fame and style increase if you are with the Element skateboard brand.
However, they are not only listed in top skate brands. They deliver quality boards to their customers since 1992. Believe me; When I use this Skateboard at every point of my journey, it gives me an incredible performance.
Element Skateboard sponsors many other professional skateboards such as:
Best for

– Element skateboards are affordable and suitable for all levels of skaters. As a skateboarder, you can also learn impressive tricks. Additionally, it is ideal for female skateboarders and children.
---
3. Zero Skateboards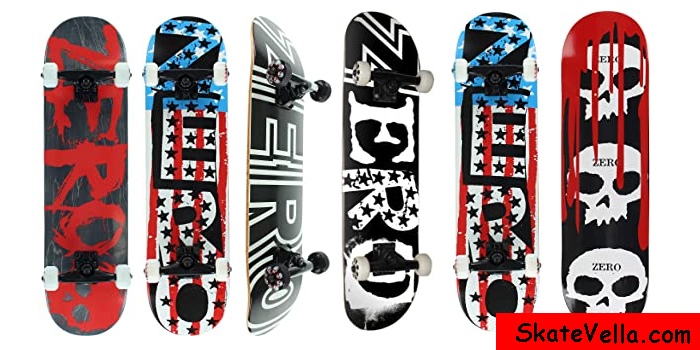 Zero was established with the mission of truly introducing the rebellious culture of skateboarding to the skateboard market. In California, the skate company started under the supervision of Jamie Thomas in 1996.
The company produced only apparel in its early days. It later became one of the top skateboard companies, offering skateboards and all other related accessories.
Many of you are familiar with the name Dwindle Distributions. They handle many of the top skateboarding brand's businesses. Zero skateboard brand is also distributed by Dwindle Distributions. 
Many famous skateboarders Windsor James, Dane Burman, Tommy Sandoval, James Brockman, Chris Wimer, Kurt Hodge and Adrian Lopez, are included in the Zero Skateboard team.
A zero brand board will provide good stability and is highly durable. For beginners, they are a great way to learn stricks. With Zero, you can customize and even choose your Skateboard and receive a fully assembled board that suits your style.
 The Skull logo appears on the Deck of this Skateboard.
What else? The board is more flexible and stylish, and because it is lighter in the weight you can also carry it in a skateboard backpack. In our opinion, the answer to the question "Which brand is the best skateboard brand for skaters?" is Zero Skateboards.   
Zero Skateboard sponsors many other professional skateboards such as:
Best for

– Zero Skateboards are a great choice for youth and new skaters.
---
4. Creature Skateboards
In 1994 four persons Barket Barrett, Jason Adams, Darren Navarrette, and Russ Pope introduced the Creature Skateboard. 
Creature Skateboard is famous due to its high-quality wood and sophisticated design. They are listed in good skateboard brands for a long time.
The decks produced by this brand are heavy and long-lasting. As well as being highly durable, they are also very strong. 
Creature use 7 ply of maple wood in the construction of their skateboard deck. The Deck from this brand also contains some extra width that provides more room for the skater's feet as compared to many other skate brands.
They are better suited to old-school skating because of their greater width.
Like other above-mentioned brands, the organization also provides all other skateboards, including wheels, amazing decks, and trucks.
However, their customer service is the real deal-breaker. Great customer interaction is one of the solid factors that help the creature rank among the top skateboarding companies.
If you are a lover of some terrific and sexy graphics, the deal is fit for you. With heavy construction, it also provides the taste of creative designs and graphics.
Best for – Creature is the most popular skateboard brand and best for the intermediate level of skateboarders. It is also for those persons who are between a beginner and a pro. The creature's Deck attracts a lot the young skaters.
---
5. Santa Cruz Skateboards 
In 1973 the company was founded in California. Santa Cruz is one of the old brands on the list of our best skateboard brands.
The shocking point about this brand is that it is an expert in attracting a non-skater to the world of skateboarding. The magic of attraction happens because of the creativity of a great and most talented artist named Jim Phillips.
Emmanuel Guzman, Dylan Williams, Eric Dressen, Blake Johnson, and 12 others are part of their skate team.
Santa Cruz uses 100% pure North American imported maple wood in its construction. The brand has built a solid reputation in the world of skating. 
In addition to skateboarding, the firm has everything skateboarding-related. The company offers Longboard, deck, truck, and all apparel are also available.
The market level of this brand for their product is one step above compared to all other skateboard brands. The decks are beautifully colored and arranged in various styles.
The most famous point about Santa Cruz is that it is famous globally among all skateboarders for its amazing "Screaming Hand" logo(plan by Jim Phillips).
What's more? The Skateboard is available at an affordable price. And this brand is good for both male and females skateboarders. According to my friend Emma, she is really happy with this board. Ever since she's been doing skating with it.
Santa Cruz skateboards are also not much heavier in weight and also having great shape and design. The brand also contains boards for all levels of skaters.
What's more? The Skateboard is available at an affordable price. And this brand is good for both male and females skateboarders. According to my friend Emma, she is really happy with this board. Ever since she's been doing skating with it.
Santa Cruz skateboards are also not much heavier in weight and also having great shape and design. The brand also contains boards for all levels of skaters.
Again it is not only branding and a piece of art. There are many best and high-quality boards available in Santa's store.
Santa Cruz Skateboard sponsors many other professional skateboards such as:
Best for

– Santa Cruz is a nice choice for all levels of Skateboarders and both genders. You can buy it without thinking more it will never disappoint you.
---
6. Blind Skateboard
In 1989, one of the most famous skateboarders named Mark Gonzales, introduces this brand with the help of Dwindle Distributors.
At the moment, Spike Jonze in 1991 coordinated the organization of the blink skateboard. There are many famous skater's names in a list of the Blind Skate team. Cody McEntire, Jason Thurtle, Kevin Romar, Sewa Kroetkov, Morgan Smith, Yuto Horigome are a few famous names.
Blind Skateboard uses Eight ply of pure Canadian maple in its construction to give more strength to its Deck. Due to its steeple concave shape and good durability, it is a highly demanded skateboard market.
In Blind, you can find skateboarding accessories such as decks, wheels, trucks, and bearing. Buying all the accessories in one package minimizes your cost as compared to buying them separately.
With its quality material, the brand gets popularity due to its attractive color and eye-catching design with images. The brand is famous among skateboarders because of its art. 
Since 1991 Blind has been creating videos regularly. These are likely marketing tactics used by the company to distinguish itself from its competitor.
Best for – Blind skateboards (the best skateboard in the world) are the best skateboard brands in the skateboarding industry. Blind is good for all types of riders. It also gives an amazing performance in street skating.
---
7. Toy Machine Skateboard
Toy Machine skateboards project was started in San Diego California in 1993. The brand is famous all around the words due to its awesome quality production.
The board is great for those who want to learn tricks and ride in a short period with not much effort. The Toy Machine brand offers almost all sizes of the Deck to their customers.
It is available in 23 different graphic designs in which a few popular and highly appreciated designs are Fists Green, Fists Purple, Furry Monster, Pee Sect, Vice Monster Purple, Venndiagram, Stoner Sect, and a few others. 
Leo Romero, Bill Marks, Axel Cruysberghs and josh Harmony are the team members of toy machine skateboard brand.
The 7 ply hardwood maple is used in the manufacturing of Toy Machine board. The Deck of this board is known for its weird shapes and excellent graphics.
The board is more durable and strong and is expected to face many ups and downs easily.
The board is more durable and strong and expects to face many ups and downs easily. With good strength, it also provides great reliability.
The last but Heart touching fact about this best skateboard brand is it got an award for having very loyal followers in the skateboarding market.
Best for-

The deck sizes of Toy Machine are best for beginners and children. A skateboard from this brand is best for kids aged around 10.
---
8. Globe skateboards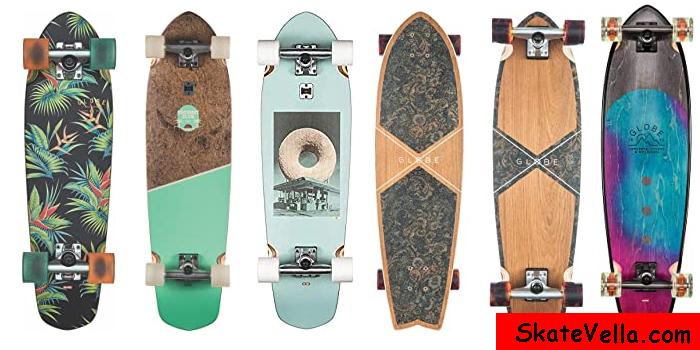 There are many different skateboard brands, but Globe has builds an excellent reputation for producing good skateboards brands in the market. The Skateboard of the brand is in eyecatching design and graphics.
 It comes in six different designs, i.e., Coconut/Mandarin, DK Black/Resin, Fried, Nature Walk/ Blue, Red Toadstool, and Washed Yellow. We claim that you'll fall in love with these designs in your first look.
The brand has a group of the best professional skateboarders such as Sammy Montano, Ryan Decenzo, Mark Appleyard, Aaron Kim.
The Globe Skateboards deal in many other accessories related to skateboarding including Deck, wheel, truck, and apparel.
Globe Skateboard brands especially use the glue of proxy resin to increase the Skateboard's strength and longevity. The skateboard deck of Globe is high quality and Lightweight.
Due to its concave shape deck and wheel. The Skateboard is easy to handle and control when you take a sharp turn. It is reliable and feels more comfortable when you are riding on it.
If you are not sure of your skating style, a Globe Skateboard might be right for you as it offers customization so that you can modify it according to your need.
Best for

– The Globe skate brand is great for street skating, as well as mellow riders. It is best for all levels of skateboarding.
---
9. Birdhouse Skateboard
 In 1992 the Birdhouse Skateboard brand was established in California (Vista) by the two best professional skateboarders named Tony Hawk and Per Welinder.
They also sell other skating accessories, clothing, and completes. The world knows these names because of their struggle and hard work in the field of skating and supplying the best product to their customers for years.
Without even being interested in the field of skateboarding, you've surely heard the name of pro skater Tony Hawk. 
Additionally to owner and pro skateboarder Tony, Birdhouse Skateboards company works day and night with an outstanding team to maintain its reputation in the skating industry.
David Loy, Ben Raybourn, Clive Dixon, Elliot Sloan, Lizzie Armanto, Clint Walker, Aaron Homoki, Shawn Hale, and some other persons are included in the company's team.
Many well-known skaters like tony Among the best longboard brands are birdhouse skateboards. Additionally, you may know Lizzie Armanto, a professional skateboarder who is a team member of the best skate brand if you're a lady skater.
With great graphics, Birdhouse is very durable, with high stability, and a flexible skateboard. This Skateboard is best for the level of skateboarder and also amazing for performing many skills and stunts.
To prevent wood chipping from the skateboard deck, the board is a little heavier.
The board is in mid concave style. Birdhouse is the best option for you if you want skating in skate parks. 
Best for

– The Birdhouse Skateboard brand is suitable for skaters of all levels. It gives long pops and can withstand rough riding.
---
10. Landyachtz Skateboards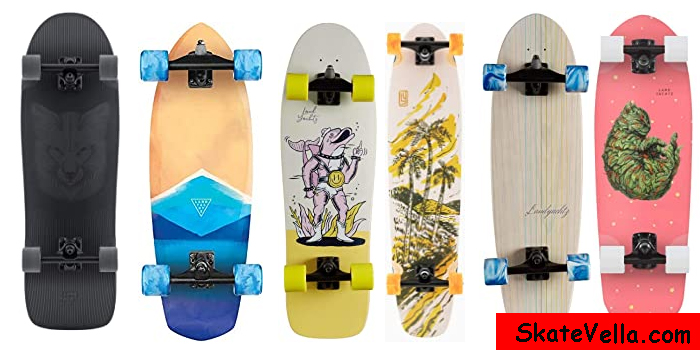 It was the oldest company started in the 90s when there is no name of any other skateboard in the market for downhill skating.
At Landyachtz, you'll find the professional level of skateboarders and longboarders like Alicia Fillback, Dane Hanna, Reese Boyko, Adam Yates, Billy Meiners, Dexter Manning, and countless others.
The skateboarding company uses the best material in the construction of all the parts of the boards. It results in a durable deck, responsive trucks, and strong and bigger wheels come.
Landyachtz gets popularity for producing high-end complete skateboards. It comprises 7 ply of pure Canadian Maple wood highly used in racing competitions and cruising purposes.
it provides you better stability when you are traveling fast. The Deck of this brand increases the demand for this skateboard brand. Landyachtz deck is more comfortable and gives an incredible performance with high control.
The Landyachtz is the best bowl skateboard brand that offers a unique wheel called Hawgs Wheels. All complete skateboards from this brand come with Hawgs wheels, which are softer than other wheels.
Best for – Every part of the Landyachtz board is high quality and unique. It offers a special soft wheel to enhance the taste of your skating. It is one of the high-demand and famous skateboard brands in the market.
---
11. Powell Peralta skateboards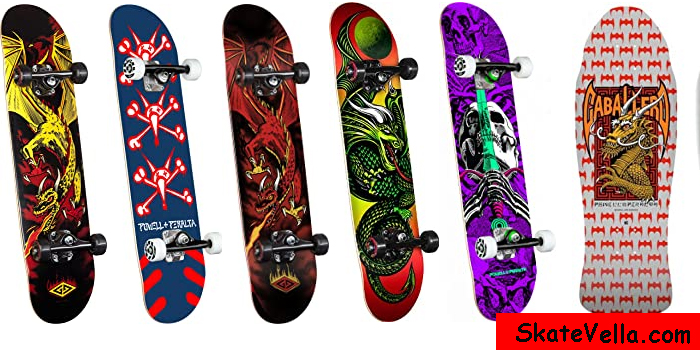 Powell Peralta is the oldest of all the brands we discussed above. Early in the 1970s, the skateboard brand was founded in California city. In addition, it has been improving in their all skating products regularly by the manufacturers.
The brand is widely known for using the famous technology of flight deck that makes it unbreakable. The Powell Brand also sells other skateboarding accessories like wheels, Grip tape, Completes, Decks and apparel.
Many pro and well-known skaters are part of their team Bucky Lasek, Andy Anderson, Steve Caballero, Mike McGill, and many more. The Powell Skateboards team is a hardworking team that strives to improve its skateboard quality every day. 
The boards of Powell are popular for their strength and high durability. The skateboards are having high flexibility. With Lightweight, and thinner in size as compared to other boards. They are using proxy resin glue in their decks to ensure their quality and strength. 
Due to its concave shape, the Deck offers more space for comfortable foot placement, making it great for beginners learning tricks. Generally, all the parts from the brand, including the bearing, wheel, and truck, are of incredible quality. So you can also buy the separate parts from this brand for any customization you need.
Because of their years of experience in the skating market, they have been able to ensure that the boards ride smoothly. For a long time, they are focused on making skateboarding fun for everyone instead of a hassle.
Best for – The experience of the field ensures reliability you can customize it according to your skating style – Can withstand rough usage for a long time. Powell Peralta is the biggest skateboard brand in the market.
---
12. Alien Workshop
The top skateboard company, Alien Workshop, was founded by Mike Hill, Neil Blender, and Chris Carter in 1990. It is a skating company based in the United States with its headquarters in Ohio and is known worldwide for its unique products. It is known as the world's best skateboard manufacturer.
As the company grows, they are making many changes to improve the quality of their skateboards. However, the most impressive thing is that they are transforming themselves into excellence. The cost of the product is never increasing.
Various skateboards are available in the market under the brand, each suitable for riders with varying types of skills.
Like many other skateboarding companies, Alien Workshop also deals in many skating accessories like wheels, trucks, bearings, and grip tape. The company has also expanded into sports apparel.
With the advancement of technology, the organization is implementing new ideas rapidly. They are adopting advanced methods to increase the durability and strength of their Deck. For enhancing stability, they laminated the board from the top surface and bottoms.
There are many attractive designs available in the Alien Workshop brand. You also have a wide range of choices to select any required size of the board according to your need easily. 
The board is suitable in both scenes. If you are a pro skater, you can learn new tricks and stunts by using them. On the other hand, you can balance it in very little time if you are a complete beginner.
Skateboards with these bearings ABEC 3 and trucks provide the best stability and control. The product includes a variety of wheel sizes and hardnesses.
Best for

– Alien Workshop is the best skateboard brand. The board is best for pro skaters to learn new styles and tricks. It is already assembled and available in many deck sizes.
---
13. Punked Skateboards
Punked Skateboards is the most popular skateboard brand famous, not only for their quality boards. They are also manufacturing spare bearings, quality wheels, and amazing stickers.
To transform the Skateboard into fascinating art, they use many different techniques and methods. You can visit their website to better understand what process they follow to transform the Skateboard into fascinating art. 
The eye-catching boards are personal favorites of mine, and I used them for my room's decoration as well.
Punked Skateboard is already assembled. If you are too busy and do not want to spend precious time assembling and fixing it, this would be a great option.
Many well-known skateboarding companies use as many as seven layers of wood. Here, the most important aspect is to make the board extra durable and strong. 
Punket brand uses nine layers of bamboo wood in its construction to make the board more flexible and lightweight.
These boards come with pretty, colorful illustrations by the manufacturers. For people with good aesthetic sense, this makes them intriguing and catchy.
This brand offers wheels in many different colors, sizes, and shapes. Picking the wheels of your choice, you can order them to be customized according to your tastes. Additionally, you can select the one already assembled according to your needs.
The large trucks and wheels, which have a suitable hardness, give riders more space to travel. Despite constant abuse and heavy use, the Punket boards last a long time.
Best for – Punket skateboard is lightweight, has unique and stylish graphics, and is especially good for new and intermediate-level skaters.
---
14. Enjoi Skateboard
Enjoi Skateboards is one of the new brands in the skateboarding market, and it was created in 2000. It is owned by Rodney Mullen, while Dwindle works as a distributor for this company.
Since its establishment, the company works hard to enlist its new style skateboards as the best skateboard brand. And build a solid reputation for their unique products that fulfill the expectations of their customers.
Their marketing strategies are heavily reliant on digital marketing systems to reach out to the public.
Enjoi is producing a quality deck. They are using seven-ply of exported North America Maple wood in its construction. For lighter weight and high durability of decks, the brand also uses epoxy resin glue.
The company offers a variety of options by making the board in different designs and prints. There are many options when it comes to selecting a cool skateboard brands of your choice and size.
It also has a stronger and wider concave shape deck. Those who struggle with balance in their early days can try Enjoi for learning balance on a skateboard in a shorter period.
What more? Whenever you are preparing to perform in any skating competition or any local skating tricks event. Using Enjoi, you can excel in almost all skating fields and learn new tricks to impress others.
Additionally, their wheels are of high quality. They provide a smooth ride and are more durable and sturdy. The company also offers ten bearings sets of ABEC 7.
Best for

– Enjoi skateboard is the best for people to perform in any skating competition or learn new skating tricks. Balance-challenged people can start with Enjoy's skate to get the best result.
---
15. Antihero Skateboards
Julien Stranger founded the company in 1995. Krooked and Real Antihero belong to the deluxe skateboards family. Skateboards are being manufactured using the same process, but they have different teams. 
Robbie Russo, Tony Trujillo, Brian Anderson, John Cardiel, and many more peoples are part of their team.
By producing unbeatable quality in the world of skating, they are ruling over the people's hearts. Instead of deeply following the trends, they are delivering worthy skateboards for the past 27 years.
Many skaters wish to go with Antihero skateboard because it provides high stability when you are riding on it. Due to its strength and durable deck, it is listed in our best top rated skateboard brands.
Additionally, Antihero Skateboards are lightweight. Their size is also wider, and they can be controlled more easily at high speeds.
Beautiful prints and designs adorn the board. If you want to perform tricks, it is a good choice.  For vert and park skating, you'll need an Antihero Skateboard.
Best for – Antihero Skateboards are perfect for beginners to pro-level skaters – for performing tricks -its wider deck provides better control. It is known as the best brand of skateboard.
---
Other good quality skateboard brands.
The above-listed best brand skateboards are highly trusted and self-tested, but it does not mean no other skateboard brand is best for you. 
As we all know, there are thousands of other good skateboard brands out there, and not all of them are trash. 
So I also want them to tell you about these brands. Because don't talk about them is injustice with them.
The below top ten skateboard brands mentioned are also durable, solid, and very reliable. However, they never made it into our top list of the best board brand. If you like any of them, you can buy them. They won't waste your money and indeed gives you the best results.
See Also: Best Blank Skateboard Decks
---
Which are the worst skateboard brands?
There are uncountably trusted and good skateboard brands that grab the market and win their customers' trust. But where there are many good skate brands are in the market there are also some worst skateboard brands available that are totally useless and you have to avoid them.
Avoid these brands if you don't want to waste your money. Sadly we cannot explain all the demerits of these brands. But in short, we want to suggest you never go with these below mention skateboard brands.
We apologize for listening to them in the worst skateboard brands. Customers who used these brands are not happy with them, so this is not only our opinion. Also, these brands are not in the list of professional skateboard brands.
---
Some Qualities of Good Skateboard Brands
If you want to start skateboarding and face a problem picking the best pro skateboards brand for you. No matter how expert you are. But you still need to focus on these minor points to select pro skateboard brands.
For effective selection, You have to ask some questions yourself. What is the purpose of your purchase of a board? Which is your favorite company? 
How much are you willing to spend ? What kind of design or print is your favorite? And maybe a bundle of other questions comes to your mind.
Sometimes we are very loyal to certain brands, and it is not wrong to be loyal to them as they are serving for a long time, so they are trustable.
PS Stix and BBS woodshops are producing a lot of top biggest skate brands for many years. These woodshops build their reputation by making the extraordinary deck in the world of skating.
Some of the best skateboarding brands include Death Wish, Real, Baker, and Antihero Skateboards. The broads that come from these brands are durable and strong. They are unique in shape and designs from other skateboards.
Skateboard Deck Shape
Width and Size
Concave
Material
Skateboard Deck Shape
You should choose a wide skateboard deck if you are a beginner. It helps you maintain your balance and learn faster. On the other hand, pointy tail lightweight decks are best for those who want to perform tricks and tre-flips.
Width and Size
When it comes to the width, you need to decide what is best for you because it all depends on your preference. For a better understanding of what type of size and shape suits your riding style.
In short, for stairs skating, we recommend a wider or bigger board. However, the thinner board would help you perform kickflips better.
Concave
The concave is also important for a rider. The board with the deep concave shape provides you with the best control and helps you in making faster flips. It also offers more control when you are taking a turn from sharp points.
Material
Material is the most critical factor. You should have an idea of the material that the company uses in their board parts. Be careful about the quality when you are selecting any good skateboard brand for you.
---
FAQs
Which are the best skateboard deck brands?
Many companies in the skating market are making high-quality skateboard decks. Choosing the best skateboard brand may depend on your riding style and your inspirational skater.
We also cover this topic deeply for your knowledge and satisfaction.
Let's check the best skate deck brands post to get a better idea.
What are the Top 5 Best Skateboard Brands?
The top 5 brand skateboards names include. 
What are the best skate brands for street skating?
Baker and Antihero skateboards are the best skate board brands for street skating. The board has a deck of narrow and popsicle shapes that are good for skating in the streets. When it comes to the best ska8board brands, these two skate brands are top of the line skateboard.
What is the Best skateboard brand for tricks?
Birdhouse and Plan B is a kingmaker in the field of skateboarding tricks and stunts. As many other skateboards are also not bad. But no other can replace these two best brands.
Always remember that nothing is more precious for you than your care. Always make sure to use a skateboard helmet to keep you safe when learning skating tricks.
Check the best skateboard helmet Best Skateboard Helmets guide here.
---
Conclusion
No doubt, all the brands mentioned above are top skateboard brands, and without any hesitation. You can pick any of them that is closer to your interest. All the skateboards that we mention in our list are mostly similar to each other. 
The deck is just one part of skateboarding. For gaining a fruitful result, you should have to focus on the price of the board, your favorite design, and graphics, the skater who is your inspiration, the type of wheels, etc.
In the end, it's all up to you. Go and pick whatever you love. We guarantee you these all above discussed brands will surely give you the taste of skateboarding.
Stay connected with SkateVella, Good luck.
---