Summary
Cruising is the most enjoyable tricks for all the skateboarders. Moat of the amazing skateboarders use this tricks to get the game for this you need to know all about the best longboard for cruising. in this article you will get all the technical information and analysis from our experts.
On every bright sunny day, we see lots of people cruising on their skateboards or longboards. The vivid beams of the sun blow during their long travels, which look gorgeous. This mesmerizing scene appeals to everybody to have the best longboards for cruising.
Unlike board dancing, the cruiser style of riding is different. To take the joy of long-distance travels with frequent turns, you need a perfect cruiser.
Here I want to tell you more about cruising; it's a simple riding style ideal for longer commutes without any break. Most riders move on nearby terrains, streets, or uneven pavement through cruiser longboards. We can say that longboarding is a moderate journey to any close marketplace, streets, or anywhere else. Hence have a relaxed feeling under your feet.
Click To See:
Our Top Picks- Discover The Best Longboards For Cruising
Hey happy fellows! Don't waste your precious time searching for your ideal cruiser. Grab the best longboard that can satisfy your city cruising. Let's move to our top products.
Let's have a look at them:
1. Sanview Bamboo Longboard-Best Stable lightweight longboard
If you are searching for a lightweight but durable cruise, then you are lucky. The Sanview longboard perfectly fits your criteria.
The graphic deck is built of a 6-ply rock maple duo with one bamboo ply, making it sturdy enough to easily hold a weight of 220 pounds. Further, its 34-inch board is specially designed in a kicktail style that lets the cruiser do more tricks by lifting their board.
Your feet can have more grip by the sandblasted grip tape that is fixed on the deck. Now take the pleasure of tuns and hard tricks, even without losing balance.
Let's talk about trucks; they are lightweight and made of 7-inch aluminum material. Their fixing to the deck is quite perfect, and if you try to loosen them, your speed may lower.
Kickstart your cruising experience with elastic polyurethane material wheels as they're grippy. Plue, the ABEC-9 certified bearing is good for pliable spinning of wheels; that's great for a smooth ride. Its anti-bite technology added an extra perk in cruising, so no more wheel bites.
A super lightweight longboard of 6.6 pounds is a worthy choice for people of all ages, especially for kids eight years or older.
Pros
Flexible deck
70mm durable wheels
Stability in taking a turn
Attractive colours
Sturdy and durable trucks
Cons
You could replace Its bearings if they stuck
---
2. Magneto Longboard: Best Kicktail Longboard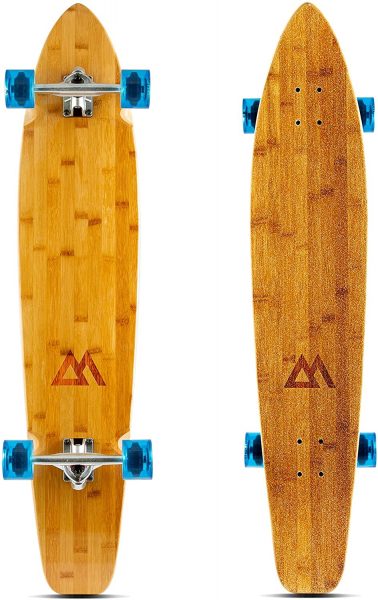 One of the best Bambo longboards for you is by the most reputable brand Magneto.
Skater gets the imaginations from nature and crafted this maple deck cruiser, perfect for both cruising and carving equally. Further, its 44 inches feature a sand grit finish, which increases its grip and beauty.
An addition of kicktail is marvelous for experimenting with all riding styles. Hence you can enjoy longboarding tricks over sidewalks, cracky areas with lots of turning ease.
Moving on, its gravity aluminum trucks are very strong and of better quality. But to taste more comfort, you can tighten them to avoid any fall down. Overall, they are nice and durable in standard size.
Imagine its glassy 70mm best longboard wheels, and they are nice at this price range. Along with a 78A durometer, they are soft with super grip during turns. Even in the rough and bumpy areas, their performance is super cool and smooth.
There are eight bearings, which means two per wheel are installed. Although its ABEC 11 bearings are nice, it's better to upgrade them for more speed. Also, its bushing has a medium level of stiffness, but you can loosen or tighten them concerning your skill level.
So take your cruising to the next level to take the joy of all riding styles, pretty good for beginners and experts as well.
Pros
Nice looking with style
Best wheels longboard
Strong deck
Kicktail feature
Best for all riding style
Cons
You can change its bearing if you think so
---
3. Hana Longboard Collection: Best Pintail Longboard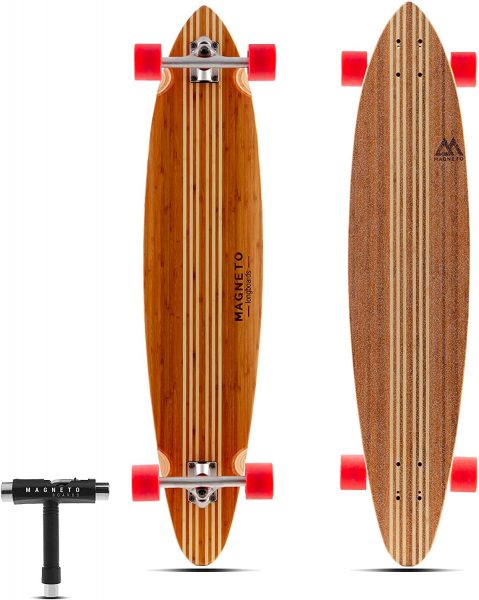 Most reputable Brand Hana comes with a pintail cruising board that is suitable for both freestyle and cruising. As per the expert's opinion, pintail-style longboards are best for free movements, so the Hana collection is accessible in twin and cruiser modes.
Here is an extra rejoice in cruising around the streets by placing your feet on an 8-layer bamboo top crafted with a hard maple core. Likewise, the w-concave deck shape is marvellous for a stable cruising experience.
A further addition to its beauty is sand grit despite the grip tape on the deck. So there is plenty of flex in its 9.5 inches wide deck, providing a wider platform to stand on it even at high speed.
Moreover, its 70 mm wheels with 78 A durometer are subtle for a smooth ride on lumpy and rocky areas. Its perfect wheel fitting to the deck helps prevent any wheel bite – good for long-distance cruising.
It is a pretty choice in this price range with a solid grip and durable structure.
On the other side of cruising, it would be your best companion on your way to a college campus.
Pros
There are two extra holes to craft various kinds of trucks
Durable and well-made construction
Great grip on deck through sand grit
Exceptional glides for great long cruises
Cons
Bearings aren't smooth to the expectations of the rider
Sometimes need to tight trucks and wheel
---
4. B BAIJIAWEI Longboard – Best Drop through longboard
B Baijiawei Brand presents an attractive longboard with graphic heat transfer constructed on one side. Due to its flex drop through feature, it's the most reliable board for long cruising.
Further, its 41-inch maple deck is equipped with 8-ply, thus making it firm to hold the weight of 220 lbs. On the side of the shape, the deck is a little bit concave, letting you take full riding joy of tricky turns. More grip is supplied by the grip tape, which fully covers the foot placement area of the deck.
Trust me, and this longboard is a perfect combo of high-quality aluminum trucks and 52mm wheels. It's best to tighten the truck bushings before initiating your very first ride for full cruising joy. On the other hand, 80 A wheels are perfect for the right amount of grip and bounce.
While ABEC-11 certified bearings are excellent for carving, cruising on the road, and of course, for freestyle riding.
One more remarkable fact is shock absorption that keeps your board safe from stroke impact, bumps from the strokes of rough areas. So I can say it's a nice deal for long-distance and smooth cruising, even for downhill on hilly areas.
Pros
Great value for the price
Wheels are great for a smooth ride
Made from environment-friendly material
Sturdy trucks with polished base
Beautiful and stylish look
Cons
Grip tape may appear rip from inside
You can replace its wheels with 90mm for zero bit
---
5. Quest Super Cruiser Longboard- Best Longboards for Beginners
If you are looking for a long-size board with handsome looks, then for sure, the Quest maple cruiser fits your criteria. What's more, it's an excellent choice for beginners because of its low price and quality.
Our long sturdy board is 44 inches long from nose to tail. A bamboo deck built with 7-ply hardwood is an example of magnificent craftsmanship.
They are exploring more, its durable 7inch aluminum trucks along with 70mm wheels. So they are stable enough for more turns. You just need to tighten its trucks to get full cruising perks. Although wheels speed up fast, you need to clean them daily to boost their working.
Moreso, its ABEC 7-speed bearings seem hard for some riders, but you can replace them with bone red if you want to cruise at top speed.
Thus, attain maximal output from this pintail style board whether you are going to campus, beach, or any walkway. Move-in style, folks!
Pros
The deck is wider even they are a good fit for broad feet
Great quality material
Super cruiser with a durable deck
A premium feature at such a price
Cons
Wheels require some pushing
Replace the bearing if you find it slow
---
6. Atom Drop Through Longboard – Best longboard wheels for Cruising on Rough Roads
Another fantastic longboard in the drop-through style is Atom, which comes with a 41-inch long maple deck. It provides more stability to your ride.
Since reverse kingpin trucks are the first pros for cruising, it's best for quick turns. If there is some problem in turn, then you can loosen its kingpin to fix this problem.
Adding more, the unique edges of the maple deck are suitable for 9.6-inch leverage on wheels during each turn. Hence there are zero wheel bites.
As its pliable deck is lower to ground, it's best for maximal stable cruising.
Further, a 70mm, round lip wheel provides smooth rolling with extra grip during turns. So there is no need for more pushing inputs during commutes. At the same time, 78A durometer wheels have an adequate softness for smooth cruising over bumpy surfaces.
Its wheel bearings ABEC 5 are simply great and spin well. To increase its spinning, lubricate them in motor oil.
Overall, the Atom longboard is fantastic with comfort and stability as well.
Pros
Flex board deck
Sturdy wheels and trucks
Excellent bearing
Smooth rides at high spee
Cons
Mishandling may lead to deck cracking
It's not a kick tailboar
---
7. Volador 42 Freeride Longboard: Best Shock Resistant Longboard
A stunning board that takes your cruising adventures to the next level is Volador complete cruiser longboard.
One of the most notable features is the shock absorption of the rock metal seven-ply deck and wheels, so guys enjoy a smooth ride on rough surfaces.
Other than this,42 inches long and 9″ wide camber concave shape deck has a 34-inch wheelbase. Along with this specification, it provides enough foot placement for all bulky or lightweight riders. So it's durable to hold a weight of 250 pounds.
Its 7-inch alum trucks are super responsive due to reverse kingpin and rebound brushing. Hence it's easy to cut corners around turns for great movability. Sometimes you can tight truck for more stability.
Its large 69 mm wheels make it a comfier commuter to ride over rocky roads, cracks, or gravel. Additional grip is gained through soft 78A durometer wheels, so thrill your feet for cruising over hills and rough surfaces as well.
And if we talk about ABEC- bearings, you still can change them with redbones for extended durability and performance.
Overall, its pretty artwork is super great with natural looks, so grab this cool longboard to take full cruising joy.
Pros
There are no wobbles in the ride at top speed
Best longboard for big guys
It's easy to kickflip
Even ride on bumpy roads
kingpin trucks can adjust at 45 or 50 45 degree
Shock and vibration absorption
Cons
The truck needs tightness to perform well
You can change bearin
---
8. Sector 9 Aperture Sidewinder Longboard -Best Flexible Longboard
Innovation with excellent performance is the name of Sector 9 Longboard. One of the most novel features, marking prominent from others, is Gullwing Sidewinder trucks. These trucks are specially designed for cruising that helps to maintain your balance on the hard turns around the corners.
Additional ease in turning is presumed by double kingpin, so smooth and flowy like turning is super amazing for cruise lovers.
Moving on towards a maple deck that is lightweight and flexible, hence it is good to go anywhere with extreme comfort. Although its deck is 36-inch in length(lesser than others) and provides less room to stand, its 9-inch width is quite enough for stability.
Its 69 mm wheel with a 49 mm wide contact patch provides more grip on the road. Moreso, its shock-resistant urethane wheels with extra bounce are best to opt for pro riders to attain high speed even at downhills.
Other than this, its bearing is fast and long-lasting due to the alignment of the spacer. So your longboard wheel will never face any hardware resistance.
So for so, it's a model cruising longboard for both intermediate and expert riders to attain great response under their feet.
Pros
Bushings are good for cruising on the bumpy road
Lightweight
Bearings are best for easy hills
Stable and controlled ride
Super bouncy wheel
Cons
Not a good choice for beginners
---
9. Junli 41Freeride Longboard -Best Longboard for all ages
Are you overweight and want a sturdy longboard that can hold your weight? Don't worry. Junli is here to solve your issue.
Apart from others, its 41 inches long deck is created with 8 -ply of natural cold-pressed maple that is sufficient to hold the weight of 330 lbs or more. At the same time, its 9.5-inch wide deck is non-slippery due to the fabrication of black brush material.
On the side of the truck, the 7 inches alum-made trucks are highly elastic with a PU support pad. This feature reduces wheel bite. So have more control and stability under your feet.
And what about wheels?
Yes, its 70mm wheels are durable with rockfish details for fewer bumps. Adding more its 80A level of hardness is good to control your speed.
Along with ABEC-11 high-speed bearings, it lets riders have a smooth cruising downhill.
With just a few pushes its moves on at good speed; riding on flat surfaces such as sidewalks or concrete is a nice idea.
I must say it's a good composite of quality and speed for flexible cruising and gliding for all ages.
Pros
Also good for freestyle and downhill
Smooth cruising
Available with T-tools
Ready to use right out of the bo
Cons
Best for short distances
It's not for hard trick
---
10. PlayStation Longboard Cruiser: Best Comfortable Longboard
Put magic under your feet by placing a Playshion longboard for cruising. It's an exceptional choice for beginners with a 39-inch long deck.
Of course, its 8-ply maple deck is not only pliable but strong enough to hold a weight of 250 lbs. A slight concave deck offers extra grip to feet; quite good for easy turns.
The lower centre of gravity is perfect for easy pushing and foot braking. The ground to deck clearance is 4 inches, which also enhances stability.
Be comfortable with a 7-inch aluminium truck; strong and sturdy with soft brushing, which is shock-resistant too.
Excessive Softness is another notable feature of the 51mm wheel, so lucky longboarders, and you can have full control on your cruise. No more pain of wheel bites on variable terrains.
Its steel-made bearings with nylon balls are adequate for a smooth ride with zero friction level. You can adjust the kingpins for enjoying more board turns.
The good speed at cracks as well, even excellent for early learners!
Pros
Comfortable longboarding
Grip tape is of good quality
The level of deck flex is 7
Stable drop through longboard
Best choice for beginners
Cons
Sometimes there is noise in wheels
11. Retrospec Zed Longboard-Best Longboard for All-day ride
In the series of pintail boards, Retrospec is another addition with the least burden on your pocket. It's a high rate top-notch longboard.
Despite the others, Its most unique thing is its surfboard shape. Eight ply bamboo wood deck is flexible and strong enough to take you anywhere you want to go. Another thing, its bottom area is slightly convex on the graphic side and a bit concave on the grip side for more stability- it works well on cracks and bumps.
Aluminium-made trunks offer extreme support to the deck. For further speed and performance, you can tighten it as well.
Moreover, 70x51mm is a fine big size cruising wheel for great rolling. Its 85A hardness of wheels offers easy turns with the least grab. Also, the flexibility is good due to flex axles. The polyurethane material is best for a smooth ride that also absorbs shock. Hence the wheel bite is not a stressful thing for your mind.
Cruising at high speed is the dream of every longboarder, thanks to ABEC-7 bearings for providing top cruising adventure. Moreso, reverse kingpin bearings are ideal for cruising all day.
On the whole, Zed, a longboard, is for the best vintage hues, retro cues, and many styles. No doubt it's a marvellous bargain at less price.
Pros
It's sturdy enough to hold the weight of 220 lbs
Highly proficient with shock-resistant wheels
Strong grip due to rock finish
Strong and flexible deck
Durable dec
Cons
Some users say to replace its wheel bearings to attain more speed
---
12. Yocaher Professional Speed Drop Down Complete Longboard – Best Downhill Longboard
Yocaher is a drop-down board that you can consider acceptable from beginner to experienced riders.
Its Canadian maple-constructed deck is durable enough to bear the weight of 275 lbs or more. Due to the drop through feature, the feet placement area is lower than the truck; that's good for increasing mobility.
Plus, its deck is free from flex, so it is an ideal pick for high-speed and the downhill style of riding.
Having top-mounted heavy-duty trucks with 70mm wheels is wheelbase alright, but sometimes you need to tighten them as per your skill demand.
Aside from this, some riders can feel its 78 A wheel a bit stiff and hard, but it's on you to change them with some other soft wheels. But overall, the wheels are nice.
Apart from this, it's a wide drop-down board having cutouts on both ends of the board. This is a premium aspect to reducing wheel bites. The assembling of black grip tape on the top surface is superb for looks and grip as well.
Yocaher longboards are Cringeworthy for riders eager to learn to dance, weave, slide, or lean.
Pros
Ideal for downhill
Eliminates wheel bites
Great value for money
Excellent choice for all rider
Superb manoeuvrability
Cons
Wheels are hard, may need replacemen
---
13. Landyachtz Longboards – Best Value Longboard

One of the top and famous brands in the field of longboards is Landyachtz, working since 1997.
Although they are high price boards, the value and quality are exceptional other than its high rate.
Its versatile seven-ply maple deck is flexible and supportive to novel riders and seasoned skaters. Further, its drop mounted deck is concave and bandy for excellent turning and carving. It seems like you are gliding around the road.
Another exception is a drop-down factor, which means it's far low to the floor with a low center of gravity, leading to more stability.
Additional stability is accessible by 180mm trucks along with a low wheelbase. It is an excellent deal for deep carves and cruising.
Moreso, its larger 72mm wheels are easy to move and can rollover the bumps easily for a smooth, fast, and grip sort of ride.
The item weighs 2kg, a bit heavy, but it's too stable. Trust me, it's a Cringeworthy deal for those who are in love of free riding, downhill, and cruising.
It's made of environmentally-friendly material so good for your family's health. Apart from this amazing picture on this board are eye catchy to youngsters.
So, guys, it's a super delight, active and speedy around the roads, plus easier to ride than a typical cruiser.
In my suggestion, it's all according to your driving style and fashion, offering more diversity in riding styles.
Pros
Strong and stable
Amazing pictures on top
More diversity
Durable material
Cons
The platform on deck to stand is not huge
Expensive but value for money
---
Wrapping the whole
In this era of chaos, where everyone is too busy in their routine affairs. No one has spare time in searching for the best longboard for cruising.
So, super longboarders, don't worry about it at all!
All the above boards are super, but Magnita is exceptional concerning all features. Hana is the best pintail board, as this type is specially designed for the cruising experience. While sector 9 is a nice addition to the drop through series of cruisers.
If you have a tight budget, you should go for Retrospec with all premium specs at an affordable price.
Now pick the best longboard for cruising that suits your skill and the speed you want to attain during your ride.
Hurry up, longboarder, put your soul on a new journey of unlimited joy with the best companion.
---
Guidance To Select The Best Longboard For Cruising- The Ultimate Criteria
It's your own choice to feel free when you stand on the platform of your favorite cruiser. At top speed, the youngsters and beginners enjoy the blow of air that hits their faces.
No doubt, the riders have more control over their cruiser because of the extra width of the deck and wheelbase, which lets the rider move fast at high speed.
Based on your choice and comfort, there are three cruising options.
Relaxed broad walk cruising along with pintail longboard
Stable cruising on the long deck boards
Comfortable style with flat decks of the cruise
I recommend you opt for the flex ride that puts less burden on the joint.
If you are confused about picking the best longboard for cruising, consider some facts.
So guys, be ready to discover more features.
About Deck:
The longboarding decks are long and flat, that comes in 33 to 49 inches in length. Its length is the main distinguishing feature that makes it prominent from typical skateboards.
Material
Maple wood is a sturdy hard material that remains reliable even after a long time.
Bamboo is a popular and flexible material as well as lightweight. Thus a bamboo deck is a superb choice for riding and carrying too.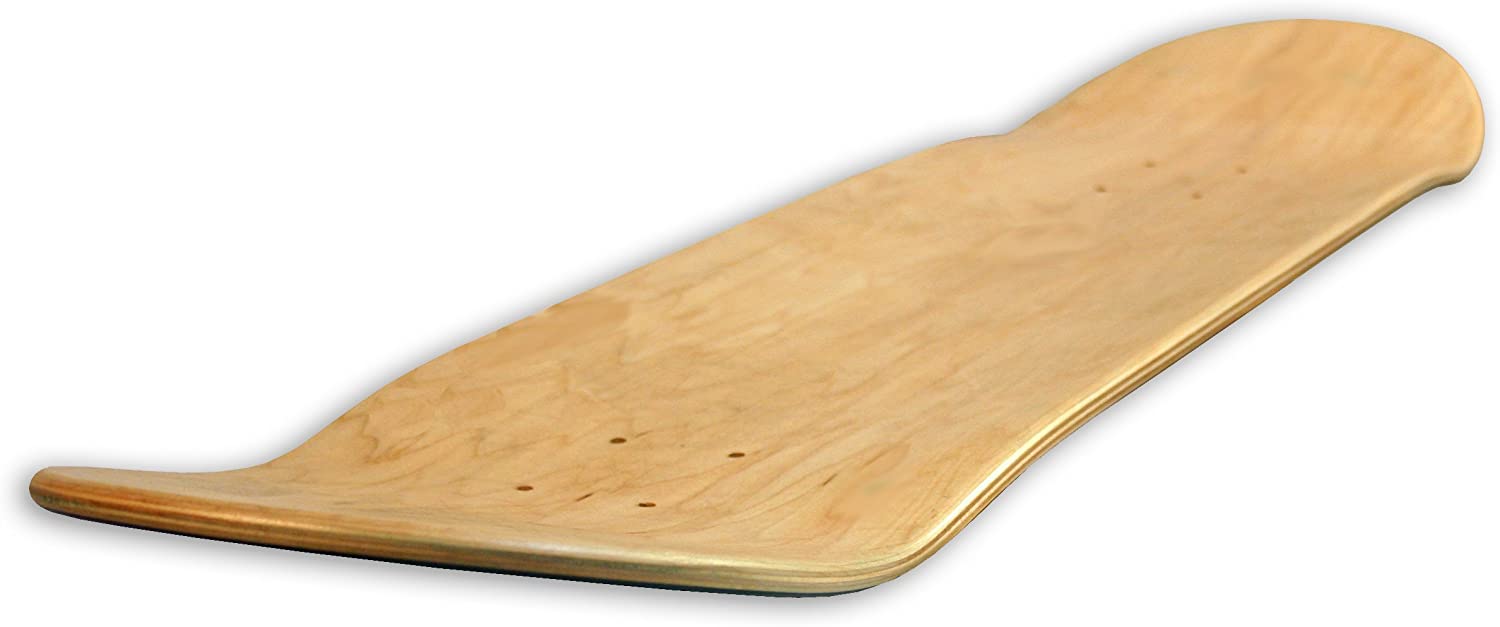 Carbon Fiber is the chief item at the top price. But this material is more efficient in fast turns over corners, with minimal pushing inputs. Most experienced cruisers pick this because of its durability and speed.
However, I suggest you go with Bambo decks because these are flexible and stable for all-day carving, cruising on rough terrains.
Choosing Deck Shape
What's deck shape is best for cruising? There are a variety of shapes on longboards.
Normally the concave shape deck is the first choice for cruising as it provides the additional grip to feet. So you can perform tricks on bumpy surfaces at high speed.
On the other side, the pin shape deck is a splendid choice for beginners because of its spacious foot placement and top-mounted trucks with flat decks. As a result, the cruisers get a sturdy board for a comfy ride at low speed.
Length and Width of the Deck:
If the rider is a normal height person, it is preferable to opt for a 32 to 40 inches longboard. But for a taller person, you can move to the 40 inches plus. At the same time, the 39 to 44 inches size of the deck is best for beginners and kids.
Similarly, the width of the deck lies between 7.5 to 8.7 inches. Now it depends on you to buy one which is convenient for your feet size.
For more speed and tricks, choose shorter boards that can surpass hard turns.
What about Trucks?
The truck is an essential part of longboards. It's a T. shape equipment assembled under the deck.
Most importantly, It lets you turn your ride by tying up the wheels to the board. Also, make sure that it's nearest to the deck width. Generally, the cruising trucks are loose to gain the fastest turns.
To illustrate the sharp cruising tricks, the experts mention Standard-kingpin trucks for kicktail boards. It's also effective in eliminating wheel bites.
While reverse kingpin trucks are the first choice of cruisers in downhill style or carving, they are the best choice for a more stable ride.
---
Features of the Best Longboard Wheels for Cruising
Shape of wheels
The two shapes of the wheel are:
Sharp-lip: it's good for grip, especially during hard turns. Also, sharp squares have more contact patches that can affect performance.
Round-lip: it's an ideal shape for surfing and carving but is a nice deal for powerslide. It provides less contact patch(wheel contact with the ground)
See Also: Best Longboard Wheels for cruising, downhill, and dancing
Diameter of cruising wheels
Mostly the wheel diameter is in the range between 64 to 80mm. But the commonly used size is 70-75mm for 40 inches or larger decks.
I must say that the larger wheel size is perfect for, the better performance of a longboard. They have less tendency to wheel bite so that you can enjoy long cruising with no rubbing and fractions.
Cruising wheel's Durometer
The Durometer refers to the measurement level of wheel hardness, and it lies between 0-100A, but for cruising, 78A is fairly popular among riders.
Most cruisers like the soft wheel as they are comfortable and roll smoothly on crossroads or sidewalks. For lightweight riders, 80-83A durometer wheels are best. While for the bulky one, the harder wheels of 78A hardness are perfect for riding on.
Wheel Bearings
Another remarkable feature is the soft brushing, which is so good for easy turns and great manoeuvrability.
The Standard of bearing is usually calculated as ABEC Rating. A rating between 5 or 7 is considered best.
For proper functioning, you need to keep them clean and remove extra dirt or water. The oil lubrication also enhances its working.
If, over time, you find them inappropriate, you have the option to replace them for fast wheel spinning.
All in all, I've disclosed all the vital features which are necessary to know.
---
Mostly asked Questions by Cruisers:
Q1. Is a longboard better for cruising?
A pintail longboard is a good option for relaxed and chilled boardwalk cruising because it has a flat deck and a longer wheelbase. You can choose a 40″ or longer deck for stability.
Q2. What is the smoothest longboard?
Volador's longboard is crafted with eight-ply maple for durability without weighing you down. The wide deck is considered a comfortable ride, and it comes with large wheels for smooth rolling over a long distance.
Q3. Are drop throughs good for cruising?
Drop-throughs are great for cruising, carving, and most ride styles that keep you under 25 mph. They have the trucks mounted through the deck and also offer fast speed.
Q4. Is longboarding easier than skateboarding?
Yes, Longboards, especially long, wide boards and decks that are considered drop-through. while pintail is also a good choice for longboarding
Q5. Are skateboards better than longboards?
For beginners, both longboards and skateboards are best, but according to some research, longboards are an exceptional choice for newcomers. Longboards are used for cruising as they are longer and more stable, plus soft wheels for easy turns.
---