Does your skateboard have a place to rest when you're not using it? Or is your skateboard safe while you are commuting? If not, you might need to get yourself the best skateboard backpacks.
These bags are designed specifically for carrying around all of the gear that comes with skating. They can even carry a spare set of wheels, water bottles, your phone, laptop, and other useful items during travel.
The best skateboard backpack has been designed to handle the extra weight and wear-and-tear that comes with traveling. They also boast a high level of functionality, allowing you to take full advantage of your bag even while carrying skates on it!
See Also: Longboards For Beginners Review
Top 8+ Best Skateboard Backpacks (Experts selection)
1. Eastsport Multi-Compartment Skater Backpack
The Eastsport is a vast space skateboard backpack in our top recommended products. There are several mesh pockets inside and a large padded compartment designed to hold a laptop. You can easily keep your all other gears in the backpack.
Additionally, there are two small pockets on the front of the bag. And, the bag has two mesh side pockets for a water bottle or anything else you want to keep with you.
Eastsport Multi-Compartment Skater Backpack comes in 16 different colors and styles, and you can easily pick the one that matches your longboard or skateboard well.
Now when we come toward manufacturing and construction of the backpack here, the company is credible. They add two heavy-duty and strong Velcro straps on the front side of the backpack for securely holding your skateboard.
A waterproof coating makes the bag safe, so you won't have to worry about damaging your luggage. With a polyester interior, it also has strong and durable stitching and a great rubber handle for carrying it.
Moreover, The padded fixed on the back and the shoulder straps help ease the strain of carrying heavy luggage.
Pros
Sixteen different designs
with support straps and padded backs
Velcro straps
Large compartments
Long-lasting and waterproof backpack
Cons
Pockets on the side are unfitted
---
2. Ronyes Skateboard Backpack
If you like to go with a versatile backpack. Ronyes is the one to best skateboard backpack to go with. It comes with many pockets and an eye-catching design.
The Ronyes full black backpack is made of high-quality polyester and has a substantial capacity of 30L.
The bag's exterior is waterproof coated to protect the luggage from water and make it survivable on rainy days.
You can charge your phone from your power bank while utilizing the integrated, external USB cable. We feel Ronyee is a perfect and demanded bag due to its attractive design.
You'll get almost all sizes of pockets to keep any luggage in the bag easily. You also get two heavy-duty board straps to carry any size of skateboard or longboard.
It also includes a big front main pocket, one hidden pocket on its top, four amazing slots for pens, an iPad slot, two side net pockets for bottles, and finally, a super inner pocket for your laptop.
On the bottom, there is a net that provides an exceptional feature. A sports ball such as football, volleyball, or basketball can be kept in this net by attaching it in front.
The backpack is best for college, school students, men, women, outdoor activities. It's also one of the best gifts to give on someone's birthday.
Moreover, an S shape comfortable shoulder strap and a breathable air mesh system make the bag extremely comfortable.
A mesh is also used on the back of the backpack to provide better air circulation. The waist and sternum buckles are easily adjustable if needed.
Pros
Multiple pockets
Comfortable shoulder straps
Padded back
Integrated USB cable
Sports ball net
Front Buckles to carry any size of skateboard
Cons
Available in just one color
---
3. JanSport SuperBreak One Backpack
JanSports SuperBreak has a great value in the backpacks market. It is made up of 100% polyester and has good size main pocket for your gears or accessories.
The company offers a lifetime warranty on all backpacks. The durability of JanSport makes it ideal to use roughly and with no break.
Additionally, the signature front backpack pocket combines a spacious compartment with an organizer so that you can keep everything, whether it be your gadgets or stationery.
Soft padding is added to the shoulders and back to make them more comfortable and reduce stress on the body.
So You can easily keep any heavy thing in your backpack while cruising in the street. There are 14 beautiful colors and styles to choose from, so you can choose whatever you like.
Despite the positives of JanSport, the downside is that the straps aren't buckled with it; you will have to purchase one separately at a backpack shop to carry your skateboard.
Pros
Brand offer Lifetime warranty
Multiple color choices
Front pocket organizer
Padded shoulder straps and back
Cons
Buckle straps are not included
There are no padded pockets for laptop
---
4. Fuel Pro Skater Backpack
Fuel Pro introduces only two backpacks in the market but is outstanding and highly affordable. The skateboard backpack is considered one of the best in meeting a user's requirements.
To keep the luggage safe, the brand uses polyester and waterproof material. To increase the durability and quality of the backpack, the manufacturing company uses heavy-duty bottom panels, quality zippers with leather zip pullers.
To reduce the stress from your shoulders while carrying heavy luggage in the bag, the brand adds heavy padding on the shoulders and the backside of the backpack. You can also adjust the straps to get a custom fit that contours to fit on your back perfectly.
Furthermore, you get a large main compartment, a padded laptop sleeve, two zippered side pockets for your bottle of sunscreen, and two adjustable front straps to keep your skateboard safely.
There is a good size main pocket, a laptop compartment, four side pockets in which two pockets are zippered, and the rest of the two are adjustable.
On the front of the bag are two straps for holding your skateboard safely. The pack also has two lash tabs on top of the bag for hanging keys or other equipment.
Pros
Spacious pockets
Protective sleeve with heavy padding
You can adjust the skateboard strap according to you
Durable bottom panel
Side pockets are with zipper
Cons
Without front pocket
Only two color
---
5. Mohave
With a lot of color options and durability, this backpack is perfect for any occasion. Not only does it have all these features, but it also comes at an affordable price for your pocket.
The Mohave Skate Backpack unisex offers comfort when you are on your way out or carrying heavy things.
The manufacturer uses the 600D polyester fabric to ensure that water will not damage its material, no matter what happens during use or in harsh weather. It suggests giving it a handwash.
A classy design can catch people's attention without even trying, thanks to their unique patterns created with cotton+polyester making up each piece while maintaining functionality and durability. The Mohave Skate Backpack is the perfect accessory for any Longboarder.
This bag will be your new selection for long commutes with its two padded shoulder straps and easy access zippered side pockets. The width and height of the backpack are 11'5" and 15'5", respectively.
Not only does it provide safety with an internal laptop sleeve measuring 13 – 15 inches. These pockets have the capacity to stores small miscellaneous items like keys or cell phones.
This bag is not a large backpack, but there's enough space for your carrying, and it can stretch when loaded. The front side has its spot on the outside of the strap that you put sunglasses in, so they don't get damaged. The volume of this backpack is 30 liters.
Pros
Durable
Look is classy
Well-padded straps
Secure laptops leave
Cons
Not suitable for small boards
Less capacity
---
6. Everest Griptape
The Everest Griptape Backpack is a small, inexpensive skating bag that will allow you to carry it for long periods. But be aware the capacity may not hold much since its size makes it difficult to pack bulky items like jackets or pads into this type of design.
Made from 600 D polyester material, the backpack is durable. The double stitching on its material is to make sure that it will last for a long time. And protect your laptop well in case you put it inside. The bag can fit 15-inch laptops without any problems.
Therefore, if this bag suits what you need, then order away because we have tons more colors than just black to choose from, like blue or red. The total weight is 0.5 kg. While the dimensions are 12″ x 6.5″ x 17″
The bag is a durable, water-resistant material that will protect your belongings. The adjustable dual-zippered front pockets provide space for all sorts of items like skateboards or small tools and equipment; the padded shoulder harness reduces stress on the neck when carrying this pack loaded up – it has straps designed with comfort in mind.
You can even strap two boards together, so you have easy access during workouts at any time without having them bounce around. Thanks to its new design, which features extra padding near key areas where weight usually builds up during activity.
Pros
Lightweight backpack
Padded back panel
Perfect Padded shoulder strap
---
7. Crazy K&A Professional S-board Bag
This long skateboard bag is entirely different from other bags on this review list. If you are looking for a skating bag where only your board will fit, then the Crazy K&A Professional.
It's designed with professional skaters in mind and features no graphics or anything to make it easy. The adjustable strap ensures there won't ever be an issue when we put freshies onto our boards.
You'll be able to carry your skateboard without worries with this bag. There is no pad on the strap, so it won't get heavy or slow you down as much when walking around town.
The 600D nylon material does not make for excellent quality in comparison, but at least there's space inside of this thing.
The manufacturer could have used high-quality material, but they didn't, maybe because of the price. This Bag is cheap, making it an excellent option for people looking for bags with good value and durability at an affordable cost.
With some care, your purchase will last longer than expected while still meeting all those needs. The incredible quality construction means that regardless of whether you use this product daily like most adults do during their busy routine lives and go outside sometimes, even then by taking proper precautions against any potential hazards.
Pros
Friendly on your pocket
Lightweight
Designed for Skateboard
---
8. Dakine URBN Mission | Backpack for College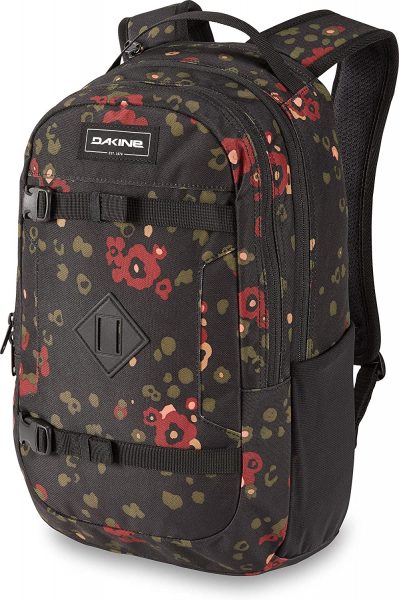 The Dakine Mission bag is the perfect accessory for any outdoor enthusiast. This model comes with a sternum strap, ensuring you can carry it on your back without worrying about the load slipping away from its straps.
This also includes two buckle straps that attach at the front where one would store their skateboard if they were going out into an area full of hills or slopes.
This slim design makes wearing this stylish-looking outdoorsman's pack look so classy.
The material of this bag is rather interesting. It features a pocket for organizers and also has space to hold your goggles, with an additional pouch explicitly meant for laptops up 15 inches long as well.
The main compartment can be small because it's slimline (23 liters), lightweight construction approximately 5.6 oz. It allows you did not to notice that it's there when carrying around all day, though.
The laptop compartment is 16 n half an inch, while the bottom and middle widths are 9 and 13 inches, respectively. The total height of the bag is 19 inches.
The detachable waist strap is combined to make sure there won't ever come any accidental drops. The breathable air mesh shoulder straps are measures around 36 inches and will keep things cool during hot weather since they let breezes flow freely without blocking them off.
If you're a frequent traveler, then this bag is perfect for your needs. It has two zippered side pockets where small items can be stored and accessed easily when needed without worrying.
Pros
Easy and nicely wrap Straps
Googles Pouch available
Six Pockets for small items
Adjustable shoulder and waist stra
---
Some Factors to Consider While Buying the Best Skateboard Backpack
Choosing the best skateboard backpack requires you to consider several factors. This includes examining the size, the number of pockets, and storage features of backpacks available in different price ranges. The following guidelines will help you find the perfect backpack for your skateboarding needs.
Size of Skateboard Backpack
Number of Pockets and Storage Features
The durability of Skateboard Backpack
Price of Skateboard Backpack
1) Size of Skateboard Backpack
If you are new to skateboarding, go for a smaller board bag that's just big enough to carry their board with its truck detached.
It should also have room for at least one set of wheels and hardware, as well as standard gear like pads, helmets, and kneepads.
A separate compartment can be used to store shoes or dirty clothes. There are now many brands offering compact bags that come with waist straps for easy carrying.
2) Number of Pockets and Storage Features
Opt for backpacks with several pockets for your helmet, kneepads, shoes, clothes, and even your water bottle. Side pockets are excellent storage spaces for skateboard tools like screwdrivers, wrench, or Allen keys.
There should be an external pocket that can accommodate smaller items like a wallet, phone, and remote control. Velcro straps are also helpful to secure the board in place during rides. Other features you may want to consider include padded shoulder straps and an adjustable waist belt.
3) Durability of Skateboard Backpack
Backpacks made from heavy-duty materials will last longer than those made from lightweight materials like nylon or canvas. It is also important for your backpack to come with weatherproof coating for enhanced durability.
Some backpacks feature a padded laptop compartment, which is ideal for young skaters who are in school or taking classes.
4) Price of Skateboard Backpack
Look for affordable options that provide excellent value for your money. If you find a backpack that meets all the requirements but costs much more than budget-friendly models, opts for the latter instead.
However, if you are an experienced skateboarder, then it would be better to invest in high-quality bags with added storage space and features like detachable wheels compartments and shoulder straps.
---
Purposes of Using a Skateboard Backpack:
Generally, skate backpacks are narrower and less bulky than other types of bags, so they are easier to carry for extended periods without tiring out quickly.
There are many different styles and designs of backpacks on the market, all of them being perfect for carrying around a couple of decks and a set of wheels while out skating.
The primary purpose of a skateboard backpack is to carry your boards safely and conveniently while you're out skating.
Skateboards can be reasonably expensive, and it's generally not a good idea to go out and hit the streets while your boards are fragilely tucked in under your arm, hoping not to break it while taking corners at high speeds.
SkateBackpacks are perfect for carrying around your skateboard or longboards safely without worrying about them breaking.
Multi-purpose use
When you have your board strapped to your back, there are no limitations on what you can do with it. You can grab your board and walk or run to where ever you want, knowing that it won't break or fall out while doing so; then, when you get to wherever you're going, you can get off your backpack and ride.
Also, other people who use skateboards will notice that it's a skateboard on your back and not mistake it for something else.
Some things people might confuse a skateboard with are musical instruments, school bags or bookbags, and camping or sports equipment.
Well organized storage
The storage on some backpacks is small while others are large, so it depends on which backpack you get. Different skateboard backpacks have different-sized pockets to store wheels or bearings.
When your backpack is well organized with everything in the right place, it's much easier to find what you're looking for and much less time lost searching for it.
Also, when you're skating, if you know where everything is in your backpack, you can get to whatever accessory or item you need quickly and without hassle.
Protective padding
Not all backpacks have padding on the inside, but some do. The padding is usually a softer material to prevent damage to your skateboard(s) if it gets dropped or something comes in contact with it. Aesthetically speaking, it also makes your backpack look much better and makes it more comfortable for you.
Bad climate support
Backpacks are not waterproof, meaning that if you're out skating in the rain, your belongings will get wet. Also, there is no support on some backpacks for keeping items hot or cold while outside.
Cruising comfortably
Some backpacks have more support on the straps, making them more comfortable to be carried around while skating or walking. Also, some bags are specifically designed for skateboarding.
---
Conclusion
As agreed by many, a good skateboard backpack has a lot of room to accommodate the necessary equipment. It's best to have one with dividers inside such essential things are protected.
Several skateboard backpacks are available in the market nowadays, but if you are buying online, it would be better to check all dimensions carefully before making a purchase.
The volume will present how much space you have for storage. For instance, the Raynes Skateboard Backpack is the best. If you are still confused about making a consequential decision, check our buying guide to better pick the best skateboard backpack for you.
If you have any questions related to backpacks, you can ask in below comment section. we love to reply and guide you.
Good Luck ❤️❤️❤️
---
FAQs Related to Best Skateboard Backpacks
Q. What is the price of a skateboard backpack?
A skateboard backpack is used to holds the main components of a skateboard for easy transportation. Backpacks can range from $30 for a less expensive model to around $100 for a higher quality version.
Q. Who is a Skateboard Backpack for?
Today, skateboard backpacks are available for any type of user – from middle schoolers to college students. Bags are known for their durability and perfect design when it comes to carrying all kinds of personal belongings like laptops, notebooks, pens, pencils, etc. Using a bag keeps our luggage organized in the backpack while keeping our hands free.
Q. What is the Best Way to Carry Your Skateboard?
Most people who want to carry their longboard or skateboard will use a backpack. You get straps on the front of the backpack to hang your board correctly. In addition, you can also carry other gear in your bag from one place to another.
---