Electric skateboards have become more and more popular over the past few years. They are a fun way to get around, but some people feel like they're too expensive for someone who doesn't want or need all of that technology in their life.
Nowadays, there is an easy solution: budget-friendly electric skates. This guide will tell you how I found my perfect balance between cost-effectiveness and performance. The Best Electric Skateboard Under 500 $ so your money can go towards other things rather than being spent on something unnecessary.
I've been riding e-skates since 2015 when friends introduced them as a cool thing. Not just another toy used by young kids at play anymore and then promptly forgotten. At first glance, these devices seemed kind of gimmicky.
The price of a perfect electric skate board can be ultra-high, mainly if they are imported. Imported boards will have hefty price tags and a long wait time of up to a few months.
Save time and money by checking out our list of the best electric skateboards under $500.
Best Electric Skateboard Under $500
1. Meepo Mini 2 Electric Skateboard
Brand: Meepo
Deck: Width9 Inches
Material: Maple
Deck Length: 32 Inches
Color: Black
Durometer Hardness: 100A
Wheel Material: Polyurethane
Wheel Size: 90 Millimeters
Item Weight: 17 Pounds
The best electric skateboard under 500 dollars is, hands down, the Meepo Mini 2 Electric Skateboard.
Meepo's comes in different sizes, too, so you can fit it to your stride. It is 30″ long with a 21.5″ wheelbase and an 8-layer Canadian maple deck reinforced with cast steel. So when you're maneuvering the nose or popping tricks, it has more stability.
Compared to other boards, like the Meepo Classic Cruiser Quad Longboard, which is best designed for deep carving, this board that we reviewed today offers maximum control because of its functional kicktail design.
The deck shape is a functional kicktail which means it is easy to turn and perfect for making sharp turns. The Mini 2 is an electric skateboard with an interchangeable battery pack to have backup power when your main battery runs down.
The M4 remote comes with the Mini 2 and allows users to shift gears, control speed, and watch their speed, range, and other important data as they ride.
It has a hill-climbing capacity of 30% grade, so you won't need to worry about feeling its limits while traversing challenging terrain.
Pros
The excellent commuter board feels original.
Perfect Battery Life
Makes sharp turns
Incredible brakes
The weight limit is 300lbs
Cons
Wheels need to be changed
---
2. Blitzart Mini Flash 28″ Electric Skateboard
Brand: BLITZART
Material: Maple
Deck Length: 28 Inches
Color: Black
Item Weight: 9 Pounds
Load Capacity: 250 Pounds
The Blitzart Mini Flash Electric Skateboard has four-speed modes for beginners and more experienced riders. To start, you need first to get used to the board. Control it at slow speeds and learn how to balance on it.
After that, if you gain confidence and want a little bit more of a challenge, you can try to go faster using the top speed of 12MPH. The Blitzart Mini Flash Electric Skateboard is usually shipped right away (I bought one).
It's affordable, but this isn't seen as a problem because it is still safe and approved by the Manufacturer's Association of Personal Vehicles–MAPV. This company specializes in selling electric skateboards.
The Blitzart mini flash electric skateboard has a unique design that's sure to catch any skateboarder's eye. Its curved shape makes it much easier to turn, and the speed that it goes at is simply incredible because it can go up to approximately 23 miles an hour.
It's super easy to charge, and its battery lasts so long that you'll never have to worry about replacing it. I'm impressed with its overall quality, considering how affordable it is. Worth every penny.
Pros
Suitable for beginners and pro
Motor don't make noise
This can be used as a manual as well
---
3. Teamgee H5 37″ Electric Skateboard
Brand Teamgee
Deck Width 8.7 Inches
Material Wood
Color Black
Wheel Material Polyurethane
Wheel Size 90 Millimeters
Item Weight 14.55 Pounds
Load Capacity 200 Pounds
Age Range (Description) Over 13
Teamgee H5 is a new generation of skateboards that builds upon the fundamental elements and philosophies. It takes the rider on a smooth ride with no motor noise or vibration, and it is safe for everyone to use.
The Teamgee H5 is one of the most potent E-skates in the market, with a top speed of 22 MPH and range of up to 11 miles. It is 37 inches long, which makes it ideal for people between 5'2″ and 6 feet tall.
Your new H5 electric skateboard is the thinnest and lightest board in its category. The design is simple, but it's also modern, with a relaxed style that will make you want to ride it all day long. Turns heads while cruising around town or campus.
It is a longboard that can reach up to 22 MPH with its powerful 380W x 2 motors. The H5 is made from 10 ply Canadian Maple and one-ply fiberglass, giving it a medium flex which makes for a smooth ride.
It comes with a wireless remote control with an LCD screen, which allows you to change the speed and directions and reverse.
Pros
Comfortable and lightweight
Suitable for beginners and pros
Two-way remote
Stable
Cons
Short battery life
Not for speed
---
4. Swagtron NG-3 Swagskate Electric Skateboard
Brand Swagtron
Deck Width 8 Inches
Material Aluminum, Plastic
Deck Length 20 Inches
Color BLACK
Wheel Material Polyurethane
Wheel Size 72 Millimeters
Item Weight 7.7 Pounds
Load Capacity 150 Pounds
Age Range (Description) Youth
The Swagtron NG-3 electric skateboard has proven to be the best among other options in its price range. For example, the electric skateboard features robust and responsive intelligent sensors that detect weight and motion.
Because of this, the skateboard immediately stops when a person dismounts from it. In addition, it has an intelligent sensor for cruise control (added security), so only the rider can approach and use it safely.
The Swagtron NG-3 electric skateboard is a fun, helpful product. It's like a regular skateboard in how it cuts and carves, but it has some functions that make it more interesting than your average skateboard. The deck is flexible and won't crack or wear.
This helps keep your shoes locked into place while riding, so you can focus on carving downhills, carving around corners, and dancing across the control pad of your Swagtron NG-3 Electric Skateboard like an absolute boss.
The Swagtron NG-3 will take one and a half hours to charge. It has a max speed of 8 mph and can travel up to two miles on a full battery. Once the battery runs out, you'll still be able to use the board as a traditional skateboard with no power assistance.
Despite not being ideal for commuting due to its lack of power. It does have plenty of features that make it worth buying for entertainment purposes, such as LED lights embedded in its deck for visibility at night, smooth turning capabilities, and near-silence during operation to not bother others around you.
This product is especially great for kids of shorter stature since it doesn't require much effort or force from the rider during turns.
Pros
Control System is Excellent
Stable
Great for kids
Don't make noise
Cons
Battery life doesn't support the uphill
---
5. Hiboy S11 Electric Skateboard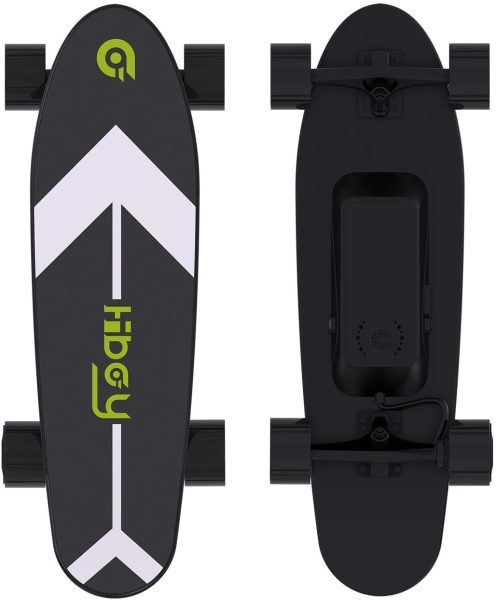 Brand Hiboy
Deck Width 8.3 Inches
Material Wood, Aluminum
Deck Length 30 Inches
Color Black1
Wheel Material Polyurethane
Item Weight 8.3 Pounds
You might be asking yourself, should I get an electric skateboard or a regular old skateboard? The difference is that the powered one allows you to move forward with a press of a button.
So if speed and being able to go further is what you're after, then definitely look at getting the shortboard. But remember, these won't work as well around corners.
This skateboard is designed to have regenerative braking, which means that if you apply the brakes, the battery will start to recharge.
This increases the range of your vehicle by a slight amount, but it does deplete some power. However, if you ever run out of battery during your journey, it can still be ridden like a regular skateboard with no motor attached.
Pros
Suitable for beginners
Speedy
Riding is possible when the battery dies
Great Brake control
Lots of battery life
Cons
The hardware is a bit weak.
---
6. RazorX Electric Skateboard

Brand Razor
Material Wood
Color Black Cruiser Skateboard
Wheel Size 83 Millimeters
Load Capacity 220 Pounds
Choosing the best electric skateboard under 500 dollars for kids – Only one model you should consider: The RazorX Electric Skateboard. It's a newer model than the Green model, but it offers much more than the Green in design and functionality.
The board is made of a solid five-ply maple deck that makes cruising around more manageable than ever before. It also comes with an upgraded motor that provides power to the board, and it comes with new batteries that have 40 minutes of riding time and a powerful lithium battery.
This skateboard has a high-quality construction that easily competes with boards worth over 1200 dollars. The maximum weight capacity for riders is 220 lbs, so there's no need to worry whether or not your kids will be able to enjoy this RazorX.
Riding a skateboard can be difficult. Razor has made a pretty good effort with their new product, making the experience of riding an electric board that much is easier to enjoy.
The cool thing about this is that anytime there is a problem with your battery or you want to go out and use it as a regular longboard, you can easily remove the rechargeable battery and switch it out for a different one.
This goes without saying, but having your skateboard means knowing how to maintain it, especially if you will take it somewhere else.
So I highly recommend using only trusted skate brands like the ones we mentioned here – or else it may be complex undertaking any major maintenance beyond routine cleaning and tightening bolts on time.
At an affordable price, this cruiser is ideal for cruising. RazorX electric skateboards are slow going uphill.
Pros
Light Weight
Stop quickly with remote control
Budget-friendly
Great Stability
---
7. Blizzard 38″ Hurricane Electric Longboard
Brand B BLITZART
Deck Width 7 Inches
Material Bamboo, Maple
Deck Length 38 Inches
Color Hurricane Black
Item Weight 8.35 Kilograms
Load Capacity 250 Pounds
Age Range (Description) Adult
The Blitz 38" Hurricane Electric Longboard with Remote Control is a top-rated electric skateboard for anyone who needs bragging rights to the most fantastic board or needs transportation over long distances.
The board comes in black and white and is equipped with an innovative 7-layer Canadian maple deck which gives riders 1,000 watts of power that can reach a max speed of 16 mph.
The Ping An ATW lithium battery ranges up to 18 miles per charge and takes as little as 2.5 hours to charge completely.
With its wireless remote, you can control your ride easily, whether you need help getting going in the mornings or adjusting how fast you go during your commute. The Blitzart Hurricane supports a maximum weight of 300 pounds.
Hurricane is one of the best electric skateboards on the market. Considered it to be beginner-friendly, it's easy to learn and control. However, do not expect to go too fast because this board isn't exactly made with speed in mind.
It is not very good at handling inclines and may become difficult to control when riding downhill. It also performs considerably worse once you reach below 50% battery life capacity.
And if it loses power completely, there's nothing much you can do besides riding it as a regular skateboard.
Pros
Reversible capacity
Suitable for heavy riders.
Ideal for beginners and pros as well
Cons
It is heavier in weight
The productivity becomes low at 50 per battery.
---
8. Aceshin Electric Skateboard for Adult Cruiser
Brand Aceshin
Deck Width 21 Centimeters
Material Wood, Maple
Color Blue
Durometer Hardness 80A
Wheel Material Polyurethane
Wheel Size 73 Millimeters
One-piece forward and reverse brushless 73 hub motor – a highly developed 350W motor that is completely integrated into the 73mm. The new high-quality materials will provide you with a better grip and help alleviate any wear issues that might have previously arisen in the past.
Not only that, but the new surface material will give you a more comfortable feel while still being able to work just as hard. We've also included anti-slip properties, so rest assured knowing that you'll be able to get around all those hills even in wet weather.
Max Load can go up to 80 kg. Our skateboard comes with a 2.4G wireless remote control with 4 Led indicators for a convenient longer distance ride, and the LED display on the board shows the driving speed, the power mode, and more.
Equipped with two ways (low speed & high speed), with battery display and features a reversible riding option, easy to switch forward/backward when you need to change directions.
The remote range can reach up to 14M: built-in battery 2200mAh large capacity, up to 10 Km per charge. Power off automatically after 10 minutes without operation.
Pros
Easy to Learn
Stable
Great on uphills
---
9. Backfire G2 Black Electric Skateboard
Brand BACKFIRE
Deck Width 9 Inches
Material Plastic
Deck Length 38 Inches
Color Black
Durometer Hardness 83A
Wheel Material Polyurethane
Wheel Size 96 Millimeters
Item Weight 17 Pounds
Load Capacity 240 Pounds
The Hiboy S11 skateboard has regenerative braking, which means that when you apply the brakes, the battery charges up a little more.
Many skateboards don't have regenerative braking, and it's something that I like about this particular e-skateboard. Unfortunately, if your battery does die, you can't ride it as a skateboard without power just since it is so heavy.
The Wow board has a top speed of about 22mph and takes about 2.75 hrs to charge fully. They help you ride efficiently by providing you with many customizable settings, such as changing the LED lights, height, and speed, amongst other locations. The battery power decreases in colder weather while it will increase in warmer weather.
If you have an electric skateboard, the wheels will probably be polyurethane. Polyurethane has a sliding property that is useful and allows you to go faster than average speed. These wheels are durable because they are made with PU plastic and have an 83d polyurethANE formula.
The trucks on electric skateboards work just like regular skateboard trucks, but they can lift the board off the ground when being turned by the motor to drive it forward. The best thing about these parts is that they come ready to be installed in your electric skateboard right out of the box.
However, the brakes are solid and reliable enough to stop at higher speeds and are not a problem even without recharging the battery.
Pros
Suitable for beginners
Works when the battery is off
Great stability and move
Water-resistant
Cons
Not suitable in Rain
A bit noisy
---
What is an Electric Skateboard and Why Do You Need One
Electric Skateboards offer a faster and more enjoyable way to enjoy the outdoors. With little or no effort, you can navigate hills while pushing yourself closer toward achieving your daily exercise goals.
Plus, these boards are versatile enough for an off-season routine overhaul on battery life when it's time. Just put them back into regular mode by winding down excess speed settings before stopping altogether.
It still allows riders complete control over their riding position using its remote proximity sensor technology, which will enable users greater mobility because there isn't any worry about crashing.
Due solely to momentum alone, thanks again in large part to how much easier turning has become since implementing this design.
---
Benefits of Using an Electric Skateboard
It is fun to ride an electric skateboard. They can go much farther than a regular one because you use assistance from the motor rather than just yourself.
The exercise will ensure that all parts of your body get used and strengthened, including muscles in places where they may not usually be utilized while walking or running on flat ground – like uphill slopes, for instance (if there's enough room).
You'll feel encouraged by how easy it feels when learning; even beginners should have no trouble mastering this mode of transport within minutes.
Electric skateboards are good for the environment and help you travel far without killing planet Earth. The device has an electric motor that takes care of propelling your board, so it doesn't make any noise or pollute the air with carbon dioxide gas like other vehicles do.
Plus, when riding one of these boards outside, there is no need to worry about getting carsick because all movement goes forward rather than backward first – making long distances more manageable for beginners who may not know how to control their speed yet.
---
Features to Look for in a Good Electric Skateboard
Battery Capacity
Electric skateboards are getting more popular, and with good reason. They're a fun way to get from point A (your house) across town or into work without having sore ankles from normal pedaling.
But there's something about an electric board that makes me feel like I'm in Captain America mode – flying down hills as if this were 2007 all over again.
I know not everyone has super flexible schedules- even those who own one find themselves spending hours every day charging up their rides. Suppose you don't have time for converting outages between modes of transportation on weekends when your friends want some real estate action going.
It is essential to pick an electric skateboard with enough battery life for your needs. If you want one that can last up the whole way, then consider a smaller model and lighter weight, so it's easier on yourself.
Acceleration and Braking
Acceleration power on electric skateboards comes from the motors. Dual motors, either hub or belt drive, are standard for most of these boards and will provide you with quick acceleration to get away from a pursuer that's hot on your trail, as well as top speed when riding downhills safely without much traction (which could be difficult).
The lighter weight also contributes heavily towards making sure all those horsepowers go where they're supposed – ensuring safety by providing responsive brakes in case something happens unexpectedly up ahead.
Riding Experience
If you want to ride electric skateboards under 500, the riding experience will vary based on what you want to do. If you're commuting on your electric skateboard, the board must have large wheels and maximum battery power for long-range travel.
Larger soft wheels will also help ride over cracks or bumps smoothly, enhancing your experience while commuting with an e-skate. In addition, if this is more offroad use, then a lighter weight (and less distance) would make sense as well, so think about how much energy storage capacity suits what type of riding best Commuters might require fewer resources than those.
Who goes rougher terrain routes regularly? Getting one explicitly designed towards fun modes like downhill racing may be ideal; we recommend checking out models from each brand before buying.
Top Speed and Range
An electric skateboard is a form of transportation that works to convert electrical energy into kinetic energy. The board is moved by an electric motor, which drives the wheels.
It's a great alternative to walking or riding a bicycle, and it's a fun way to get some exercise in. The best electric skateboards under $500 ride smoothly and have a good range. The motor, battery, wheels, and quality of the board should all be considered when purchasing.
Some boards can travel up to 30 miles on a single charge, depending on the model. A panel with both beginner and advanced speeds or multiple speeds will allow you to practice slowly and build momentum over time.
Budget
When looking for an affordable electric skateboard, many people are drawn to boards with high price tags. When they see that a board is more than $500, they automatically assume that it is the best one available on the market. However, this isn't always the case, and you are likely to find a cheaper alternative if you look hard enough.
Charging Time
The range of the electric skateboard is determined by the size and power of its battery. More giant electric skateboards can travel longer distances on a single charge.
At this time, some boards can move at speeds over 30 miles per hour. It is essential to purchase an electric skateboard manufactured with a safeguard that prevents users who weigh over 200 pounds from exceeding these speeds.
Deck
The deck is perhaps the most critical component of a skateboard, as it provides all of the stability and flexibility necessary for a smooth and stable ride.
When you buy your skateboard, you want to ensure that your board has solid footing. One way to do this is to make sure that the board's core is made out of high-quality wood veneer pressed into a thin layer instead of thicker wooden beams that can warp when exposed to excess water.
The best wood for this purpose is maple wood because maple adds a special kind of balance between low weight and structural integrity.
Motors
HUB MOTOR
Hub motors are the best type of motor for electric skateboards. Hub motors are efficient and work at low speeds, which is good when riding in urban environments. On a traditional skateboard, they can be kick-started and don't require a controller or throttle.
We understand that not everyone is interested in riding motored boards, but for those who are, hub motors are a popular choice because they produce good torque and support long-range commuting.
One disadvantage of hub motors is that if you were to try and replace any internal motor components, such as bearings or the brushes themselves, it would be tough to do so due to the motor being built into the wheels.
BELT DRIVE MOTOR
Belt-driven motors can be annoying to ride with, but they are pretty fast. As belt drive motors are pricier than hub drive motors, they are less popular and, by extension, harder to find and replace.
However, belt motor skateboards generally travel faster and further than their hub-driven equivalents, in addition to wheels that can be changed out more often because the motors aren't built into them.
Also worth noting is that sometimes you need to pay special attention when the rider is not there as you cannot see if anything gets jammed or tangled like a shoelace in one of the gears.
Wheels
Almost every skateboarder will agree is that the best wheels are made of polyurethane, but you may have heard some riders prefer other substances. If you can't decide, ask yourself what you need your wheels to do and whether they should be smooth or grippy.
Soft if you like cruising on even surfaces and grippy if you want a board that is easier to balance and control when you're manipulating it in ways that grip the ground, i.e., going off curbs or uneven surfaces.
One excellent way of testing out all these different wheel types would be to get the best electric skateboard under 500 $ kit possible with a whole range of other wheel options so that you can experiment as much as possible with what works best for your riding style.
Braking System
Electric skateboards are starting to become very popular. They help us travel far distances faster than by foot. Some models also come with regenerative braking, meaning that it recharges itself when going downhill. If not, you can also use a remote control with most of them (for example, the Swagtron NG-3 Swagskate Electric Skateboard).
Safety
For electric skateboards, Safety is of utmost importance. You can achieve high speeds, and if you trip up and fall off your board, you need proper protection equipment to keep yourself safe. You will want to wear helmets and pads to protect your head, even with a helmet on.
The pads also help when it comes to feet in the event of a fall from slipping off the board. Which happens more often than we think if you find yourself wiping out frequently due to speed changes, then consider getting electric skateboard wheels so that you can control the max speed of your board.
This is important as well for kids as they may not be able to reach high speeds just yet but might do so in the future and could accidentally hurt themselves while riding without having the proper safety gear on them at all times. If you are looking for help finding boards or replacements- check out these sites:
Remote Controls
Most electric skateboards come with remote control and you can have the Best Electric Skateboard Under 500$ that can be used for acceleration, deceleration, and stopping the board.
In addition to this, remotes will allow you to speed up or slow down but can also be pushed left or right to make your board spin. You can achieve this by using your body weight to lean in the direction you wish to go.
---
Final Verdict
Having an electric skateboard is tons of fun and if you have the Best Electric Skateboard Under 500 $ you are good enough. It makes a great travel companion. However, riders should not compromise about the performance and quality when selecting and choosing an affordable electric skateboard.
The best electric skateboard under 500 dollars is the Meepo Mini 2 Electric Skateboard. With its incredible battery life and ability to function as a regular skateboard if its battery dies, the Meepo Mini is a great commuter board.
Another fantastic option is the Blitzart 38″ Hurricane Electric Longboard. It is fast, affordable, and the concave deck keeps your feet in place, making it an excellent choice for beginners and intermediate riders alike.
If you choose any Best Electric Skateboard Under 500 $ in this guide, you won't go wrong. These are all great boards at an affordable price, so pick one that appeals to you and get out.