Summary
It can be difficult to decide what kind of skateboard is best for kids. There are a lot of different factors to consider, such as the child's age, skill level, and personal preferences. However, there are some general guidelines that can help parents choose the right skateboard for their child.
Skateboarding is an exciting sport that has increased in popularity among children in recent years. The best thing about skateboarding is that anyone can do it with the right equipment. Are you seeking the best skateboard for kids? If you want it for your child or gift any child close to you.
Children need to be taught how to ride a skateboard correctly, and this article provides them with everything they need to learn to ride safely and skillfully. Skating is not only sports it is the way of life to deal with.
We've recommended some of the best skateboard for kids on the market at present and included information on the most important features you should be looking for.
Purchasing a skateboard to teach your child how to ride is of utmost importance so that no one gets injured. A low-quality deck or wheels will not glide well, and the strenuous physical labor required just to move the board might discourage them from trying it out, which is the exact opposite effect you're hoping for.
A firm grip, wide-enough deck, and durable build are also essential factors to look for in a first-ride skateboard.
Following are some of the best skateboard for kids we have listed for your ease.
Best Kids Skateboard Review In 2023
1. Meketec 22 Inch Mini Cruiser Retro Skateboard
Suitable Age: 4-7 Years
Brand Meketec
Deck Width 6 Inches
Material Polypropylene, Aluminum, Plastic
Deck Length 56 Centimeters
Color The starry sky
Durometer Hardness 78A
Wheel Material Polyurethane
Wheel Size 60 Millimeters
Load Capacity 200 Pounds
If your child loves the skateboarding movies of the 2000s and wants to relive those moments, this beautifully colored kids' mini cruiser is for them.
This Meketec toy skateboard is available in one size. Still, several colors so that you can choose the option that best fits your Child's preferences – make sure you look at our blog for more info on this exciting product.
This skateboard is riddled with an original design, including 3.25-inch trucks matched to the color scheme of the deck itself, which looks sleek and makes for an excellent finish.
The deck is 22.5 x 6 inches in size and is ideal for any growing child up to 200 lbs. Even though it can support such heavyweights, its 60 mm PU wheels ensure smooth sailing, and ABEC-7 bearings mean it has excellent maneuverability with friction-free movement. The board has been CE certified, so you don't need to worry about your kid getting hurt while having fun using it.
Pros
Available in More than 20 colors
CE-certified
High-speed ABEC-7 bearings
A sturdy deck made of Polypropylene
Lightweight
Cons
Bearings needs improvements
---
2. Playshion Complete 22 Inch Mini Cruiser Skateboard
Suitable Age: 2-3 Years
Brand Playshion
Material Aluminum
Deck Length 22 Inches
Color Green/ClearOrange Wheel
Wheel Material Polyurethane
Wheel Size 59 Millimeters
Item Weight 4.4 Pounds
Load Capacity 220 Pounds
This skateboard is specifically designed for younger kids. The anti-wheel bite technology makes turning a lot easier for your child as it'll be less frustrating for them to turn (they can either turn left or right with this skateboard if they're still relatively new to skateboarding ).
Because the board has a soft surface, it'll also offer a firmer grip when grabbing onto the deck, and the ABEC-9 bearings will help make sure your Child's ride stays smooth, which will, in turn, make cruising that much easier. The aluminum trucks are equipped with soft bushings, giving them support whenever they push off from the ground.
This helps ensure your child has an enjoyable experience while learning to become a skilled (and safe) skater as they develop their rhythm and form of transportation.
It can keep almost 220 lbs weight. The best skateboard for kids is pre-assembled, and you just need to unpack it and start using it as your kid is not going to work.
Pros
Prevent Wheel Bite
Suitable for overweight
Available in multiple colors
Fiberglass gives additional support
Cons
Not Budget-friendly for younger kids
---
3. SKITCH Complete Skateboard Gift Set for All Ages
Suitable Age: 8-12
Brand SKITCH
Deck Width 6 Inches
Material Plastic
Deck Length 22 Inches
Color Purple Galaxy
Durometer Hardness 82A
Wheel Material Polyurethane
Wheel Size 60 Millimeters
Item Weight 4 Pounds
Load Capacity 200 Pounds
This Skitch mini-cruiser comes in a kit to give kids the total skateboarding experience from the outset, meaning they get to watch as the board is put together before hitting the ground running.
The mini cruiser comes with everything you need to get out on the streets, including a skateboard, backpack, tool, and carrying bag.
Plus, since the deck is 22-inches expansive, it can be used by children over 13 years old who want to learn or improve their skills on a safe and durable piece of hardware.
Furthermore, bearings have been built into the skateboard deck so that those new to this form of transport can adjust performance without extra fiddly bits to play around with – all they need to do is re-position the cartridge lubricating their wheels effectively.
Pros
Upgraded with a tote bag and a skate tool
Skitch bearings
Two-color available
ABEC-9 customizable steel bearings
Cons
Available in color options
---
4. Merkapa 22″ Complete Skateboard for Beginners
Suitable Age: 4-7 Years
Brand M Merkapa
Deck Width 6 Inches
Material Polypropylene, Aluminum, Plastic
Deck Length 22 Inches
Color Black
Durometer Hardness 78A
Wheel Material Polyurethane
Wheel Size 60 Millimeters
Load Capacity 180 Pound
The Merkapa 22-inch Complete Skateboard is specifically meant for younger kids, being 6 inches wide and 22 inches long.
The Mini Cruiser has been made of a special kind of material called PU (polyurethane) that is super shock absorbent, which makes it able to handle a great deal of damage and even sudden jolts.
It's composed of 60 by 45 mm wheels, which make your kids feel as comfortable riding around in it as possible.
The board has ABEC 7 bearings that work very effectively for people who have begun to skateboard and are still getting used to the sport.
There are also battery-powered LED lights that shine whenever there's a problem with the caps or wheels, so you can fix them straight away because we all know how important safety is when we're at play – especially on something like this.
Pros
Deck has great motion
Multiple colors available
Unique LED lights
Electricity is produced by rotary motion
Stable and long-lasting
---
5. Skatro Mini Cruiser Skateboard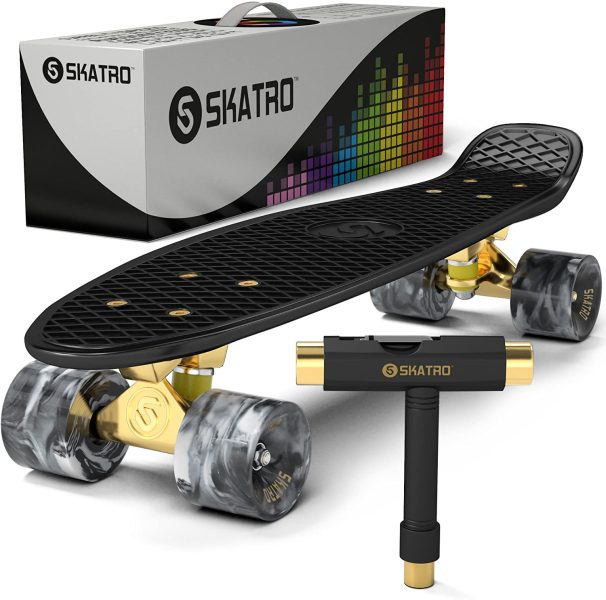 Suitable Age: 2-3 Years
Brand Skatro
Deck Width 6 Inches
Material Aluminum, Plastic
Deck Length 56 Centimeters
Color Black Mamba
Wheel Material Alloy Steel
Wheel Size 59 Millimeters
Skatro is the perfect and best skateboard for kids and mini-cruiser for kids. Their board has strong gripped wheels, smoother gliding, and a light build, making it easier to ride with each turn.
Using the ABEC-7 bearings and 59mm urethane wheels, Skatro boards have systems in place that will hold up through lots of use while continuing to provide a smooth cruise.
These features also help make it great for older kids who ride Skatros as they'll be able to handle the lighter build and experience less friction as they take turns.
You can also treat your Child with this mini cruiser. The surf-style deck and the slick grip tape deck works on any surface from wood to concrete that you'd take to the town riding around.
Just be sure to stock up on accessories such as a helmet, knee pads, elbow pads, wrist guards, and other things because safety first.
Pros
Metal bearings are great
Skatro Flexy Technology
Available in a color matching T tool
---
6. RIMABLE Complete 22 Inches Skateboard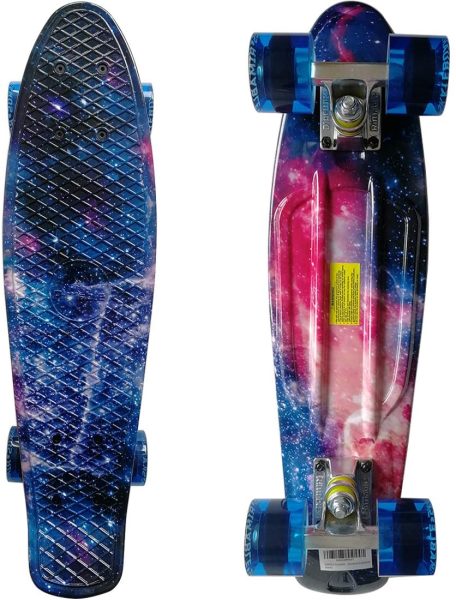 Suitable age 8- 12 years
Brand RIMABLE
Deck Width 6 Inches
Material Aluminum, Plastic
Deck Length 22 Inches
Color GALAXY6
Durometer Hardness 78A
Wheel Material Polyurethane
Wheel Size 59 Millimeters
Load Capacity 198 Pounds
The Rimable Complete 22 Inches Skateboard features a deck that is 22 inches long and 6.5 inches wide. The best skateboard for kids over 3 feet and 4 inches. The company that makes the skateboards mentioned above is 100% fresh and unblemished.
They are one hundred percent able to hold up under the stress of use and further wear, unlike their lesser counterparts, whose flaws were not fully addressed beforehand by their manufacturers.
These skateboards are meant for people looking for a cheap board but want quality. Toys-related companies often skimp when manufacturing their toys because they may not keep track of each part of the product.
As it is being made and built from start to finish, this brand stands above these companies' quality. They took the time to thoroughly inspect their products before releasing them onto the open market for children (and adults) to purchase potentially hazardous items that could hurt or kill them.
Pros
High-quality aluminum trucks
A protective gear set is present
Available in multiple colors
Wheels are smooth
---
7. MINORITY 32inch Maple Skateboard
Suitable age 8 – 12 years
Brand MINORITY
Deck Width 8 Inches
Material Maple
Deck Length 32 Inches
Color Tiger
Durometer Hardness 102A
If your teenager is looking for skateboards for teens, then the Teenage Mutant Ninja Turtle Skateboard is a fantastic choice. While some other cool skateboards for kids have graphics printed directly on them in one or two solid colors, this skateboard has many multi-colored designs that are eye-popping.
Additionally, if your teen likes their boards black or colored, you can find it here too since all of their plans come in various combinations of black and different shades of green/yellow/blue…etc.
The board's design also makes it ideal for tricks since the deck is thinner than other cool skateboards for kids, which means less weight. The TPR at the bottom also ensures a smooth ride and added traction when making hard turns.
The ABEC-9 bearings have chrome steel forging, thus, making the skateboard speedy. Aluminum alloy casts surround the trucks, while the 78A PU bushing/high rebound formula offers a smooth ride on any terrain.
The carbon steel kingpin/friction reducer helps you navigate through any harsh road conditions, be it gravel or even street blocks, without having to worry about getting injured.
Pros
12 design available
Methanol-free epoxy glue is used
7-ply hard rock maple wood is used
Rust-free trucks
---
8. PlayWheels Spider-Man 21 Inch Wood Cruiser Skateboard
Suitable age 5 – 10 years
Brand PlayWheels
Deck Width 6 Inches
Material Wood, Maple
Color Spider-Man
Wheel Material PVC
Wheel Size 50 Millimeters
Item Weight 1 Pounds
Load Capacity 100 Pounds
One glance is enough to tell that this is one of the coolest skateboards for kids who love superheroes. This mini cruiser is suitable for artistic kids, featuring a Spiderman-themed design carried on to the skateboards at the underside.
Manufacturers have built a 9-ply maple deck that is more sturdy than other materials like bamboo and fiberglass used shaping skateboards, so it's the most durable choice you can make when choosing the best skateboard for kids.
Plus, with wheels measuring roughly 50 x 27 mm and built with nylon bearings, this board has one of the best sensitivity ratings you'll see any board sport.
On top of that, manufacturers have constructed these axles out of steel, making this skateboard easier to ride than other models with plastic pieces or no metal axles at all.
So since build and design are essential factors when selecting your Child's first set of wheels, get them a superhero comic character-themed boy's mini-cruiser today. Moreover, the 21-inch deck can fit your kid's feet perfectly.
Pros
Special Spiderman graphics on deck
Durable wooden deck
Greater control kicktail design
PVC wheels for smooth rides
Cons
Plastic trucks need to be changed
---
9. Cal 7 22″ Complete Mini Cruiser Plastic Skateboard
Suitable Age: 4-7 Years
Brand Cal 7
Deck Width 6 Inches
Material Aluminum, Plastic
Deck Length 58 Centimeters
Color Arcadia
Durometer Hardness 78A
Wheel Size 60 Millimeters
The Mini Cruiser has been made of a special kind of material called PU (polyurethane) that is super shock absorbent, which makes it able to handle a great deal of damage and even sudden jolts.
It's composed of 60 by 45 mm wheels, which make your kids feel as comfortable riding around in it as possible.
The board has ABEC 7 bearings that work very effectively for people who have begun to skateboard and are still getting used to the sport.
There are also battery-powered LED lights that shine whenever there's a problem with the caps or wheels, so you can fix them straight away because we all know how important safety is when we're at play – especially on something like this.
Pros
Classic vintage design
Available in pastel colors
Best aluminum alloy trucks
Transparent deck design
Cons
Wheels require replacement after a few uses
Threads in the wheel nuts wear down quickly
---
Buying Guide for Choosing the Best Kids Skateboards
After determining the appropriate age range, what should you look for in the best skateboard for kids? A few essential characteristics separate the best skateboard for kids from the not-so-great ones.
Height of the Kid
The width of the skateboard depends on how tall your child is. The older and taller your Child is, the longer a skateboard you should expect to buy for them. If your child is between 3 feet to 4 feet, their ideal skateboard would be about 6.5 to 7.0 inches wide.
Otherwise, children with heights ranging from 3 feet 5 inches to 4 feet 4 inches should have skateboards that are between 7.0 to 8.0 inches wide, whereas those older and taller than 4 feet 5 inches and 5 feet 2 inches should have skateboards that are between 7.5 to 8.0 inches in width. Children over 5 feet and 3 inches should have skateboards with a width greater than 9.0 inches.
Safety Features
Safety comes first; it is one of the essential features. To ensure the skateboard is safe to use, you need to buy it from a reliable, thoroughly researched vendor.
Don't invest in skateboards from generic department stores or toy stores, as you can't be sure of the quality. We recommend buying from any of the top brands given in the list below.
In addition to the skateboard, you'll need protective gear, such as a helmet, elbow pads, knee pads, and wrist guards. Make sure you purchase the right size so that the protective equipment fits your Child perfectly.
Level
In skateboarding, there are three levels of ability. We recommend a deck about 7 inches wide for beginners, and for more advanced skaters, something more comprehensive, around 8.5 inches, should be acceptable.
Intermediate options fall somewhere in the middle, with the most popular size being an average of 7.6 inches. The hardness of your wheels and bearings can also impact the type of rider you are and what kind of board may suit you best, so again, this is worth experimenting with to find out what works right for you by visiting one of our stores and trying a few boards out.
Skateboarders will be glad they tested when they find themselves skating smoothly, as it means they've picked just the right board for them that's going to last them longer too.
---
Tips and Tricks for the Child to have a Pro Ride
Every sports trick gets expert level with time. So initially, any kid cannot manage all the tricks to survive in the field. Following are some tricks and tips for the best skateboard for kids that can be applied.
Initiate with Grass/Carpet
When it comes to skateboarding, not all surfaces are created equal. Skating on smooth roads when you're a beginner can be hazardous if you fall and run into obstacles along the way, as your speed in these kinds of conditions is far greater than when skating on rougher surfaces.
When starting, a carpet or grass patch is a good place because of the lower speed one could reach on such a surface.
Get on the Right Foot
Both feet are the same size, and so is each leg. It's a common challenge for young skaters to determine which foot they should lead with as they start skating.
As parents, we can lend our support by guiding them gently to help them find their natural footing on the ice, which will reveal their preference as they skate forward and backward. Left or right-handedness won't dictate how a child's body reacts to this process.
Their left and right sides are mirror images (i.e., the left side of the brain controls the right side of the body). So if your child happens to be right-handed, don't be concerned if they indicate a left foot preference while experimenting on the ice. Just guide them forward quietly until you both see what footlights up.
Moving Forward
Choose the best skateboards for kids for learning purposes, so they enjoy their first rides and are pro learners. Tell them to take a step forward, placing one foot on the deck. They will then bend their knees and use this leg as a pedal.
While doing so, they can hold onto both arms of the bike. By keeping their other leg off the ground, they can improve their posture and balance while learning how to ride a bike because they're not sitting or leaning back – they are in a natural upright position with both feet on the ground.
One should also tell him to keep his body straight as he rests his hands lightly on the handlebars. Also, inform them not to keep both feet close together on one side or let one foot touch the ground. Although it makes biking easier for young children to learn balance control, it isn't good for learning proper cycling techniques.
Because parents will have difficulty stabilizing them if they lose their balance during more intense pedaling, by pushing too hard and going fast, both feet can be placed in front of each other after the skateboard reaches a sufficient speed.
Downhill Rides
One thing you need to be extra cautious about as a parent is encouraging your kid to skate downhill. While it might seem harmless and just like a fun activity, there are some safety hazards that you may have never thought of.
One reason is the slope in itself. Kids often don't realize how severe of an incline they might face when trying to navigate their way down a hill.
Not all hills are created equal, so the better option for them may be somewhere flat with grass or dirt, somewhere that won't pose such a threat and allow them to practice new tricks without having to worry about breaking something somewhat delicate such as their bones.
---
Easiest Skateboards for Kids to Start With
Skateboarding is an outdoor activity that both kids and adults can get the most out of. However, riding one isn't an easy task, and it takes practice to do it smoothly.
Every board designed for beginner skateboarders should help them learn basic balancing techniques, which are helpful in other areas of life. It should also be functional enough for promoting a healthy lifestyle by building confidence through fun activities.
---
Best Age Kids Can Start Learning is it easy to learn?
No, but you have to let yourself be patient. You can't rush learning and expect your child to learn it all that quickly, either. If you have the opportunity to help out with some of those daily activities and guide them through it all step-by-step, then, by all means, do so.
There are many benefits to spending time together doing something your family can enjoy, like skateboarding. So don't get discouraged because they may not quite grasp everything they need to get around on a skateboard as quickly as you yet.
Be open with your kids about how exciting learning is at their age, and go easy on them during those first few weeks. Patience is always a virtue when it comes to learning anything new – it's necessary for one's growth and development over time. There's no way around that fact.
---
Why should children learn skateboarding?
Skateboarding is a healthy and fun playing activity. It is easy and takes less time and effect for kids to learn. Taking your children skating at a young age has several benefits, as follows.
Fun as well as Exercise
I don't know much about your kids, but I hate going to the gym. It seems like a lot of work just to get them there in the first place, but then they never want to stay long enough to get a good workout.
If you want your kids to be physically fit and healthy, making them walk or run around the block a couple of times a day is a great way to do this without harassing them into exercising.
After a long session of skateboarding, your Child can look forward to a good night's sleep. The extra time gives you the chance to catch up on your favorite TV show or enjoy a quiet evening alone.
Kids learn Socializing
Kids need to be around older kids and adults. This helps them develop social skills and relationships. After school, some young kids go home and play video games or do homework by themselves.
This means they have no one to talk to or hang out with. A skateboard can give your kid a chance to make friends with other kids of the same age group while they are in public places during after-school hours.
Boost Confidence of the Child
When kids learn something themselves with little to no help, they feel a sense of pride and accomplishment. A child might nag you to teach them how to ride a skateboard, but the best way of doing so is by having them next to you as you take your run down the street.
Before long, they'll want to challenge you for their turn on the board. Children are still growing at this age, so there's no reason not to nurture their development through support and learning opportunities that go beyond ordinary schooling and let them flourish from what they're naturally interested in.
Allowing children room for creativity helps build confidence in themselves and overall growth, ensuring that whatever talent or skill comes out of it is maximized.
Due to this confidence, children tend to do better at studies and other physical activities. Additionally, it assures them that they can excel at whatever they practice consistently.
Endurance and Determination in the kids
Learning to skateboard is all about patience and persistence. If your child has a good beginner skateboard for kids, they will understand that the best course of action is to dust themselves off and get right back up on their board when people fall.
Excellent Bonding Experience
After facing long and stressful days at the office, it's all too easy to forget that spending some quality time with your kids is an essential part of being an active parent. Teaching your child how to skateboard gives you a chance to work on a common interest while practicing something good for them like motor skills and coordination.
What Should You Spend on a Kids Skateboard in Terms of Price?
A unique skateboard for kids costs between $50 and $100 or more. Moreover, you should spend between $70 and $80 on a skateboard that offers safety and ease of use.
---
Final Verdict
In summary, all of these skateboards are versatile, but it depends on what you're looking for. You should look at your Child's estimated height and skill level before deciding on a specific model. It is not easy to buy the best skateboard for kids.
If your son or daughter is still learning to skateboard, you might want to choose the Merkapa or Rimable Skateboards for their ease and adjustability.
If your kid is more experienced in skateboarding and looking for something more advanced, the Krown Rookie Complete Board might be the best fit. Whether you're a beginner or an expert, any young person can handle using this board without a hiccup.
Furthermore, the Meketec Skateboard will not need to be replaced once your Child grows up. It's a one-time investment that you'll be able to utilize for years. No other skateboard in this list offers that.